Why S&P Bulls Should Worry As The Baltic Dry Collapse Nears Worst On Record
As we noted recently, despite global stock markets soaring, global freight indices have been more-than-seasonally weak so far in 2019 with the Baltic Dry Index in particular crashing.
The Baltic Dry Index represents the cost of renting an ocean-going container ship to move goods from, say, Chinese factories to the Port of Los Angeles. The more stuff being made and sold, the higher the demand for such ships, and thus the higher the price to rent one. And vice versa.
This is definitely one of the vice versa times. After rising to robust levels in mid-2018 the Baltic Dry Index has since collapsed...
(Click on image to enlarge)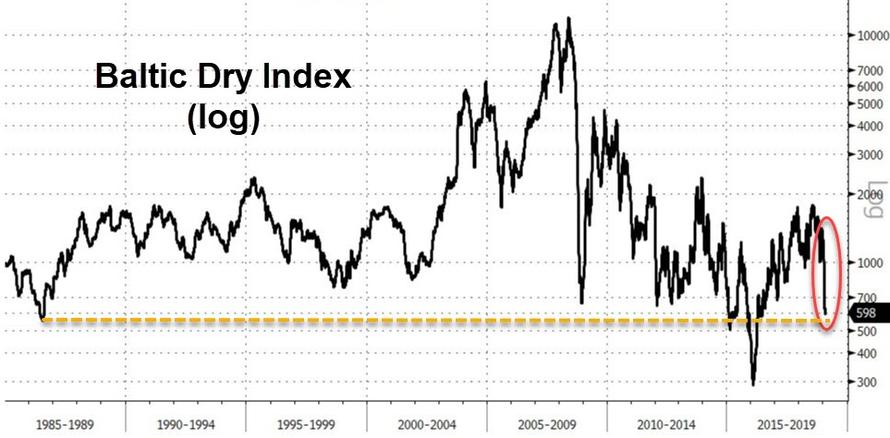 This is just shy of the worst start to a year on record (since at least 1984)...
(Click on image to enlarge)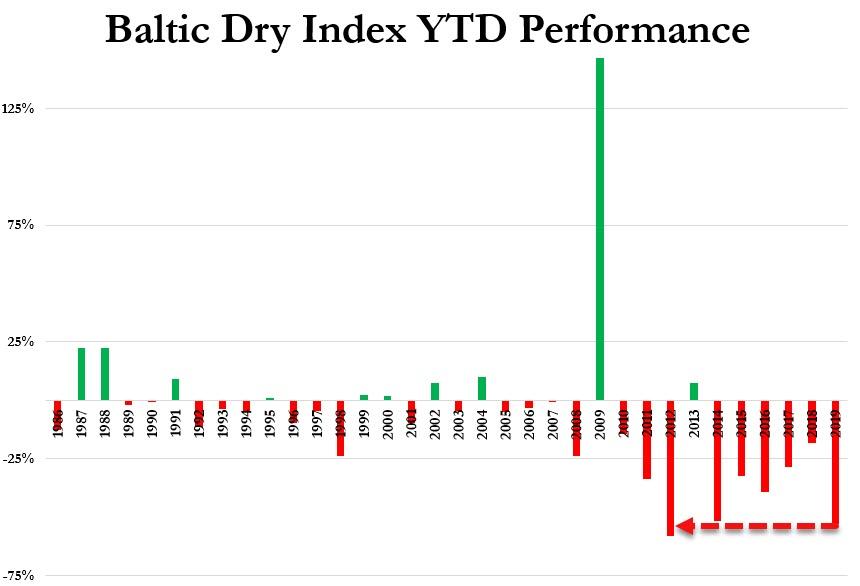 As The Wall Street Journal recently noted, Free-Falling Freight Rates Spell Trouble For Shipping
Dry bulk shipowners face a long period of uncertainty as spot prices collapse and China shipments shrink.

A slowing global economy, coupled with weak demand from China over the Lunar New Year and from Brazil after Vale SA's iron ore disaster, is dragging shipping rates to near record lows, and few in the industry expect things to improve any time soon.

Brokers in Singapore and London said capesize vessels, the largest ships that move bulk commodities like iron ore, coal and aluminum, were chartered in the spot market for as low as $8,200 a day on Thursday, a $500 decline from Wednesday. Break-even costs for carriers can be as high as $15,000 a day, and daily rates in the capesize market hovered above $20,000 last year.

"Everyone is looking for a catalyst to push the market up, but it's not there," said a Singapore broker.

The Baltic Dry Index, which tracks the cost of moving bulk commodities and is considered a leading indicator of global trade, is down more than 50% since the start of the year.

"A long slowdown in the Chinese economy will hurt commodity demand and send shipping rates sharply lower," Bloomberg Intelligence industry analyst Rahul Kapoor said.