Why Opportunistic Investor Chen Lin Is Hoping For $20/Barrel Oil
TM editors' note: This article discusses a penny stock and/or microcap. Such stocks are easily manipulated; do your own careful due diligence.
A quick drop to $20/barrel oil could be the best thing for energy companies with enough cash in the bank to take advantage of the sharp bounce predicted in the wake of such a dramatic fall. In this interview with The Energy Report, newsletter writer Chen Lin names two companies that could not only survive the oil price downturn, but also are perfectly positioned in the global market to start generating barrels of cash for investors.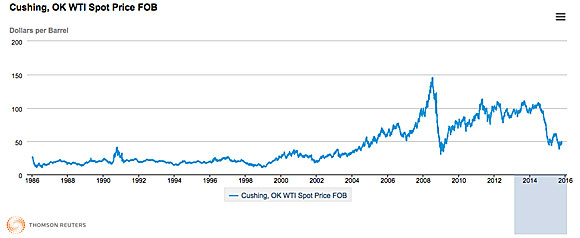 The Energy Report: In an interview with The Energy Report in 2013, you predicted the oil price decline that has burdened junior oil investors this year. What are you seeing now?
Chen Lin: I'm seeing capitulation. I see a lot of energy companies, especially those high-cost, highly leveraged companies, going out of business. I expect that to continue. However, I also see a bright future for energy companies that can survive the downturn, as we move out of this phase of the cycle.
TER: What are the indicators you're watching? Are you looking at rig counts, storage levels, news headlines from China?
CL: I'm watching everything. Rig counts are at a bottom. Storage is high. Our friends at Goldman Sachs are predicting $20 per barrel ($20/bbl) oil. Remember, less than 10 years ago, they were predicting $200/bbl oil. That is quite a difference. A dip that low could wash out all the weaker hands. Actually, I would love to see that happen. If oil really goes to the $20s, that would be a great bargain-hunting opportunity.
I'm also watching China very closely. China could be in deep trouble. That keeps me up at night. Investing is hard work. There is a lot to watch, and I have to constantly be talking to people and asking questions. However, there is a very well-defined energy cycle. Last year, I saw the oil peak coming down. When oil was $100/bbl, I told my subscribers that it was the top and we got out of a lot of energy positions. This year, I see great opportunity ahead. I hope Goldman Sachs is right. If oil really goes to $20/bbl, that will be the bargain of a lifetime.
TER: Once it goes down to $20/bbl, how quickly could it go up, and how high could it go?
CL: We all need to drive our cars, and consumption in the U.S. has been going gangbusters in the past year. Oil production in the U.S.—and at a lot of high-cost production projects globally—is going down fast. I can give you one example—a company in Colombia I know well. Management told me it's really not economical to drill oil wells there any more. Those wells have a sharp decline, similar to the performance of fracked shale wells. The company is not getting its capital investment back from drilling, so it has stopped drilling. The existing wells are declining by 50%, 70% a year. That is an opportunity because it means dwindling supply.
The sharper the drop, the sharper the rebound and the better the opportunity. The worst case would be if the price of oil continues to sink slowly. That actually makes it hard for investors to try to pick the bottom.
TER: Based on this pending opportunity, how are you adjusting your portfolio for the rest of the year?
CL: Right now, it's a risk-off, conservative mode in the energy industry. The bottom line is return on capital. Drilling costs have come down significantly, so companies that maintain cash flow can be very profitable. I'm looking for a few good companies that can do well in this downturn, and then be consolidators.
"The sharper the drop, the sharper the rebound and the better the opportunity."
It's the same in the gold business. In the beginning it was discretionary selling. For the first couple of years, people were just selling like crazy. Now, some gold companies are doing very well, double or tripling share prices despite the suffering in the sector. In energy, we are at the beginning of the phase, year one of a downturn. Investors are looking for the companies that can generate real cash flow in this environment, and those are going to be the winners with the next upturn.
I also like the natural gas business outside of the U.S., because pricing is regional. In Asia, natural gas is much more expensive, $6–8 per thousand cubic feet ($6–8/Mcf), which can result in very high margins.
TER: Could you give us some examples of companies you like in the oil or natural gas sectors?
CL: I'm holding companies that have great balance sheets, like Pan Orient Energy Corp. (POE:TSX.V) (POEFF). It is trading at below cash, so the downside is limited and the upside is very good.
The company has exposure to both oil and natural gas. It is mostly in Asia. Test results are not in yet, but initial indications show Pan Orient hit some good oil and gas in Indonesia, where the gas price has been very high. Pan Orient spent $50 million ($50M), and because of the tax situation in Indonesia, when it reaches production, it will get the $50M back. It has close to $60M cash, even without that reimbursement, and a $50M market cap. It is a great risk/reward story, but no one is looking. In the old days, when you hit oil, the stock could double. Now, it has no impact on the share price. It's up a little bit in this down market, which is not bad, but very little. Still, value is being created. That's what I like.
"I hope Goldman Sachs is right. If oil really goes to $20/bbl, that will be the bargain of a lifetime."
Pan Orient also has plans to drill in Thailand later this year, depending on the rainy season. It also has a heavy oil project in Canada that can easily be worth a lot of money when oil prices recover. This is a company with a lot of ways to be successful, and it is now selling at a rock-bottom price.
The next catalyst will be those official test results in the next two to three weeks. Next year, the company is going to have a very big target paid by its partner. Pan Orient is a company where you can see the valuation very clearly. That is why I am happy to hold on to the company through the downturn.
TER: Is another company you like on sale right now?
CL: Canacol Energy Ltd. (CNE:TSX; CNNEF:OTCQX) is reinventing itself as a natural gas company in Colombia. Natural gas is selling for $5–6/Mcf there, twice the going rate in the U.S. When the company turns on the valves in December, it will start generating a lot of cash flow. That's a very simple story. Shareholders just have to be patient and wait for the cash to start coming in. Eventually, the market will wake up and see who can make money in this market. I believe Canacol will be one of those.
I feel very comfortable holding Pan Orient and Canacol into next year. I have large positions in both.
I think tax-loss selling this year could be fantastic, a once-in-lifetime opportunity, because there are a lot of people may just want to get out of energy. If you have dry powder, you will have a lot of buying opportunities.
TER: How do you differentiate between a stock that's been beaten down and is a bargain and a zombie company that is probably going to go away?
CL: Look at the balance sheet and cash flow to see if the company has staying power. A lot of companies are like dead men walking. It's just a matter of time before they file for bankruptcy. If you buy at $0.10, and it goes to $0, you lost 100%. But if the oil price rebounds—or goes down sharply and rebounds—a lot of quality companies could perform really well. There will be some fantastic investment opportunities in energy in the next six to 12 months.
TER: What words of wisdom do you have for investors who are trying to hold on through this?
CL: I would say be selective. Stay with companies that can survive this downturn. Look for opportunities when the oil price turns. I'm very excited right now.
TER: Thank you for your time, Chen.

Chen Lin writes the popular stock newsletter What Is Chen Buying? What Is Chen Selling?,published and distributed by Taylor Hard Money Advisors Inc. While a doctoral candidate in aeronautical engineering at Princeton, Lin found his investment strategies were so profitable that he put his Ph.D. on the back burner. He employs a value-oriented approach and often demonstrates excellent market timing due to his exceptional technical analysis.
Disclosure:
1) JT Long conducted this interview for Streetwise Reports LLC, publisher of The Gold Report, ...
more