EC

Why Are Investors Focused On Bonds?
After what had been mostly smooth sailing for the month of February, the markets have been a lot more volatile in March. In particular, the bond market has been quite active for the first time in a while. Moreover, bond market volatility appears to be spilling over into stocks.
Thirty-year bond prices are down more than 9% year-to-date, with the yield up to 2.3%. The 10-year note has dropped by slightly more than 4% for the year, with the yield up to 1.5%. Those yields may not seem very high, but they've come a long way in a short timeframe (at least for bonds). Keep in mind, the 10-year yield was below 1% at the beginning of the year.
You can see the clear downward move in the iShares 20+ Year Treasury Bond ETF (TLT), a popular trading method for investing in Treasury bonds.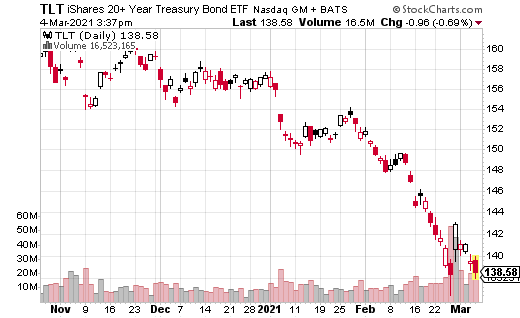 So what's in store for TLT? Options action has been mixed, with no clear opinion to glean from that metric. On the one hand, over the last 30 days, roughly 60% of the options activity appears to be bullish (long call or short put). The percentage is based on the number of contracts traded.
On the other hand, when you look at the trading activity based on the notional dollar amount, it paints a different picture. From a dollar standpoint, only 44% of the options activity has been bullish. This likely means that smaller orders in TLT have been bullish, but the large block trades have likely been bearish. In other words, there's no consensus opinion on where long bonds are headed next.
The lack of consensus makes sense based on the narrative. There are some who believe the move in bonds is concerning. Higher rates could cause a major drag on an economy that is still recovering from the ongoing pandemic. There are still 10 million unemployed Americans, mostly from the service industry.
Conversely, other pundits believe higher yields are simply a sign of a growing economy – one that is finally starting to recover from the grasp of the pandemic. While the Federal Reserve may not raise interest rates anytime soon, the bond market is forward-looking. As vaccinations become widely available, it makes sense that the economy could be on the road to recovery.
Disclaimer: Information contained in this email and websites maintained by Investors Alley Corp. ("Investors Alley") are provided for educational purposes only and are neither an offer ...
more