What Could The Next Gold Rally Look Like?
(Click on image to enlarge)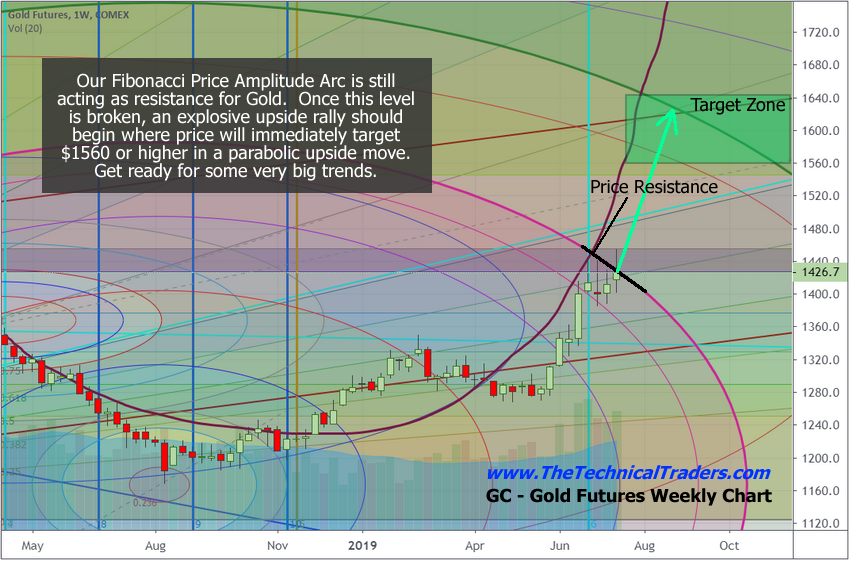 I have been going over the past data to attempt to identify future price targets and to help traders understand the true potential for the current precious metals price rally. We've been sharing our data and research with you for many months are pleased to continue to share our predictive modeling system's outputs and data. Today, we wanted to play a bit of "what if" with the data in an attempt to relate just how explosive this move in precious metals may be over the next 6 to 12+ months.
Given our belief that precious metals prices will hold last weeks breakout to the upside and that Gold will rally in a parabolic price mode, we have attempted to identify how Silver would react given the price advance of Gold and the historic price ratio between Gold vs. Silver.
A number of pricing dynamics are taking place throughout the global stock markets and the historical measures of price relationship in advancing and declining markets could help us better understand the potential upside for Silver as the price of Gold continues to rally. Here we go with our "what if" results.
Gold Fibonacci Price Amplitude – Weekly Chart
You may remember when we were calling for Gold to rally from $1200 to just above $1300 earlier this year? We warned that once this move completed, a pause and pullback back below $1300 would set up a "Momentum Base" near April 21 that would become the launchpad for a much bigger move to the upside. Now that we've seen this setup complete almost exactly as we predicted months in advance, we are waiting for the price to breach the Fibonacci Price Amplitude Arc that is currently acting as resistance for Gold (see the chart below).
Once this level is broken, we believe Gold will rally to levels near or above $1560 and attempt to set up another "Momentum Base" somewhere between $1560 and $1640. This price level represents a key price zone where multiple price inflection points align and where a larger Fibonacci Price Amplitude Arc exists.It is very likely that price will run into resistance near this zone – although it may become very brief price resistance.
Disclosure: If you want to know where the market is headed each day and week, well in advance then be sure to join my Pre-Market Video Forecasting service which is more