What A Time For Consumers
We are beginning to see the spike in consumer confidence and spending that should last throughout the spring and summer. This will be the greatest spurt in spending in decades. It's a very big deal. Firstly, Redbook yearly same store sales growth in the week of March 27th rose from 9.4% to 9.8%. This data series is volatile. Sometimes it gives off a wild reading. However, we have other data backing up the cyclical improvement. Chase card spending growth in the week of March 26th was 3.2% below its pre-COVID-19 trend which is near the high end of growth since the pandemic started. Year over year growth reached 64.6% because of the extremely weak comps. There was a massive spike in Consumer Confidence in March. We knew this would happen because stocks are rising, the economy is reopening, job creation is exploding, the Fed has rates at 0%, and the government just gave out $1,400 checks. It doesn't get better than this.
(Click on image to enlarge)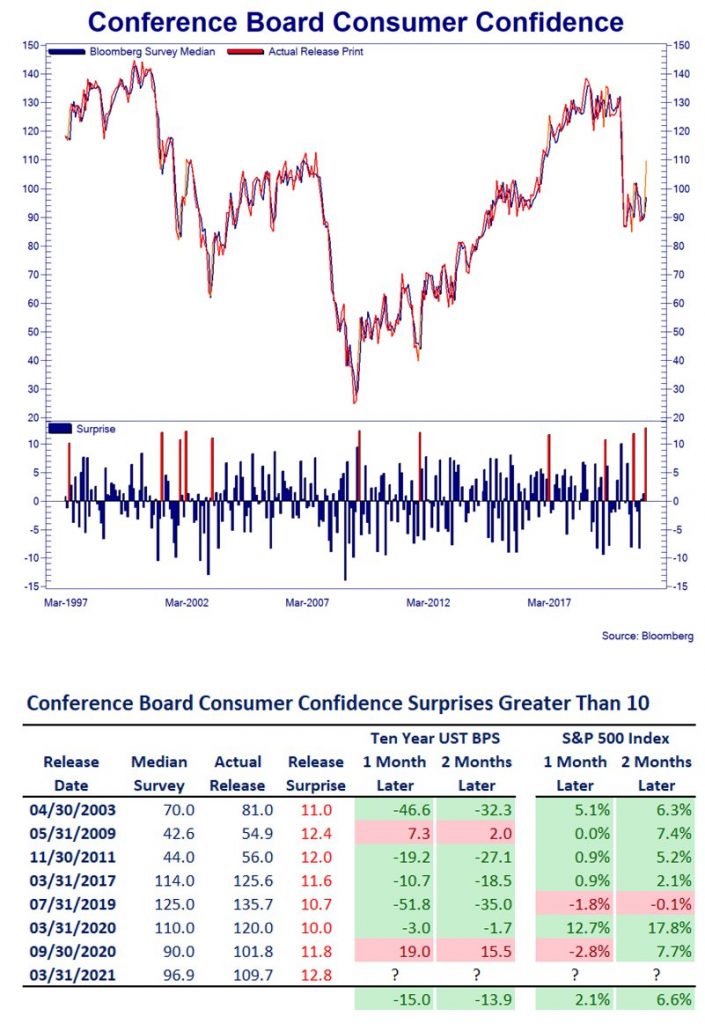 Source: Twitter @Not_Jim_Cramer
The Conference Board consumer confidence index rose from 90.4 to 109.7 which is its highest reading in 1 year. As you can see from the chart above, this was the best beat in the history of this survey. Typically, the 10-year yield is 13.9 basis points lower after such large beats. That being said, this survey was started in 1997. Since then, rates have been falling. The S&P 500 rises 6.6% on average in the following 2 months after such large beats. Sometimes good data leads to weak stock market results, but these are just beats. It's possible large beats line up with the beginning of cyclical phase changes. That's certainly the case now. Consumers are coming out of hibernation and they have money to spend.
The spike in the present situation index was enormous. We can't underemphasize how big this jump was. It rose from 89.6 to 110. Expectations also rose as the index as up from 90.9 to 109.6. Consumers' assessment of the labor market increased dramatically. This is in line with our expectation for a great BLS report this Friday. The percentage of consumers saying jobs are plentiful rose from 21.6% to 26.3% and the percentage saying jobs are hard to get fell from 22.4% to 18.5%. Expectations for business conditions jumped considerably. We don't usually see such large spikes. This is truly the 2nd spike the economy needed to get back to its pre-pandemic trajectory. The percentage of consumers expectating business conditions to improve in the next 6 months rose from 30.7% to 40.8%. The percentage of consumers expecting business conditions to worsen fell from 17.7% to 11%.
Disclaimer: The content in this article is for general informational and entertainment purposes only and should not be construed as financial advice. You agree that any decision you make will be ...
more