Weekly Fundamental US Dollar Forecast: Inflation Fears Linger; May US NFP Due Friday
A Closer Look at the May US Nonfarm Payrolls Report
The main issue for the US Dollar when it comes to the May US Nonfarm Payrolls report is whether or not the US labor market regained its momentum after a disappointing April report. After all, the prior month's reading came in at +266 thousand against an expectation for a round +1000 thousand (or +1 million) jobs added.
Market participants are indeed expecting that May reading will show a strong rebound, given that jobless claims continue to trend lower and vaccination rates have improved, leading to many lockdowns and/or restrictions otherwise to be lifted. Consensus forecasts are looking for a reading of +650 thousand, which should help the unemployment rate (U3) drop further lower from its still-lofty 6.1% level. Meanwhile, the US labor force participation rate is still a meager 61.7%.
Atlanta Fed Jobs Growth Calculator (May 2021) (Chart 2)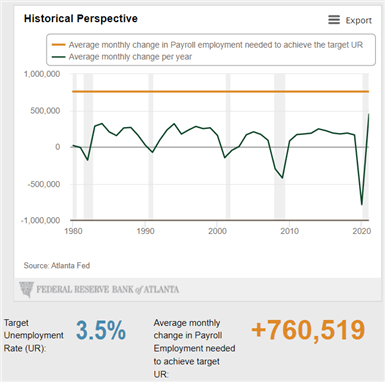 According to the Atlanta Fed Jobs Growth Calculator, the US economy needs +761 thousand jobs growth per month over the next 12-months in order to return to the pre-pandemic US labor market of a 3.5% unemployment rate (U3) with a 63.4% labor force participation rate.
Atlanta Fed GDPNow 2Q'21 Growth Estimate (May 28, 2021) (Chart 3)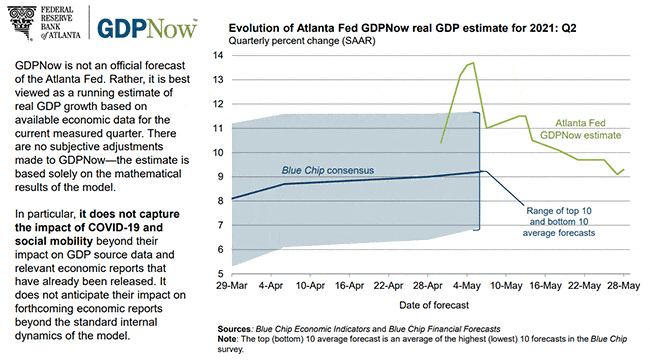 Based on the data received thus far about 2Q'21, the Atlanta Fed GDPNow growth forecast has been slightly upgraded:
"The second quarter of 2021 is [+9.3%] on May 28, up from [+9.1%] on May 27...the nowcast of second-quarter real gross private domestic investment growth decreased from [+25.1%] to [+20.7%], while the nowcast of the contribution of the change in real net exports to second-quarter real GDP growth increased from [-1.68%] to [-0.90%]."
The next update to the 2Q'21 Atlanta Fed GDPNow growth forecast is due on Tuesday, June 1, following the US ISM manufacturing index and the US construction spending report. This will be the only update of the forecast this week.