Using ROIC To Find Dangerous Stocks In A Volatile Market
After a tumultuous end to 2018, the market (S&P 500) has rebounded nicely, rising over 17% since its late December lows. However, the volatility and entrance into bear market territory has many arguing that stocks remain overvalued.
Our message to investors remains the same: there are pockets of both undervalued stocks and overvalued – or Micro-Bubble – stocks. In order to avoid these high-risk bubbles, investors need to look beyond the widely-available and misleading accounting results (noise) on which most people focus. Investors need to "get back to the basics" of reading footnotes and focusing on economic earnings and return on invested capital (ROIC), the true drivers of valuation.
To that end, we leveraged Robo-Analyst[1] technology to scour the S&P 500 to find companies with deteriorating cash flows, low returns on invested capital (ROIC), and overvalued stock prices. Under Armour (UAA: $22/share) and Keysight Technologies (KEYS: $79/share) are in the Danger Zone.
Using ROIC to Identify Risk
We've long argued (and proven empirically) that there is a strong correlation between ROIC and shareholder value. Figure 1 shows that differences in ROIC explain 54% of the differences in enterprise value divided by invested capital (a cleaner version of price-to-book) for the S&P 500. It highlights two stocks trading well above their fair value based on ROIC. It also highlights Netflix (NFLX) and Amazon (AMZN), both of which we've covered in the past, as two of the most overvalued stocks in the S&P 500.
Figure 1: Three Overvalued S&P 500 Stocks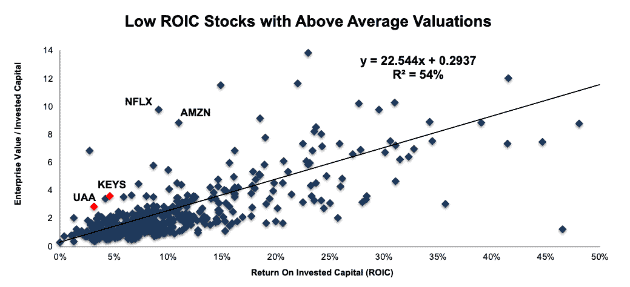 Sources: New Constructs, LLC and company filings.
UAA and KEYS are not only overvalued relative to the S&P 500, but they also share a few other traits, such as:
ROIC in a downward trend
Negative or declining economic earnings
An Unattractive or Very Unattractive rating
Under Armour (UAA)
We first noted that Under Armour provided poor risk/reward in June 2016 in an interview on CNBC. Since then, the stock is down 42% while the S&P 500 is up over 31%. Despite the underperformance, UAA once again looks overvalued, especially given the 24% year-to-date (YTD) rise while the firm's fundamentals have worsened.
Disclosure: David Trainer, Kyle Guske II, and Sam McBride receive no compensation to write about any specific stock, sector, style, or theme.
Check out this week's more