Used Vehicle Prices Spike By Record 9% YoY As Worried Consumers Abandon Mass Transit
One major problem over the last few months for the auto market was that the price of used vehicles was plunging, pressuring new vehicle sales. Now, that trend looks to have reversed in a grand fashion.
Used car prices are up 9% year over year, according to data from the Manheim U.S. Used Vehicle Value Index for June. The spike is being attributed to more people heading back out of the house - as states across the U.S. reach various stages of re-opening - but avoiding mass transit and ride sharing services.
The idea of having your own, quarantined vehicle is now back in fashion and has caused a 50% to 75% drop in mass transit in some major cities, according to Bloomberg.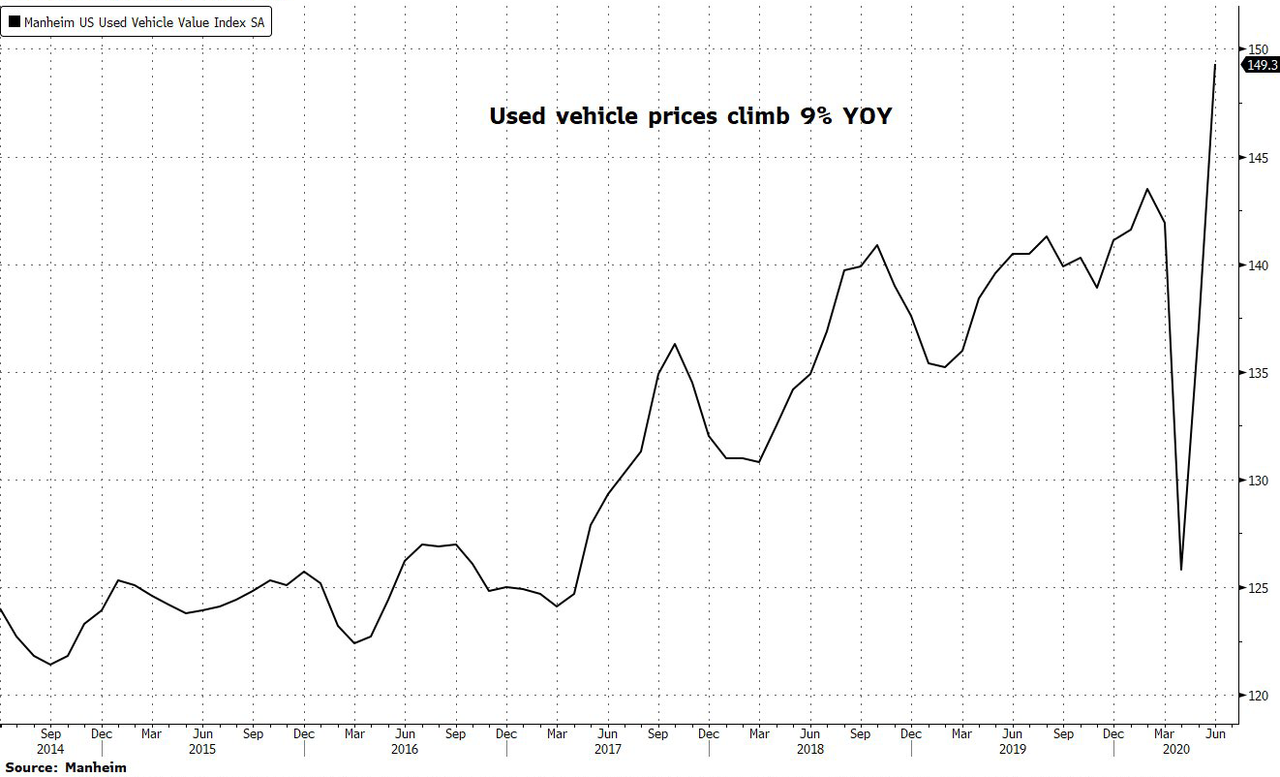 In Seattle, public transit usage is down about 70%. According to Bob Foran, chief financial officer for the Metropolitan Transportation Authority, New York City subway and commuter rail traffic is down an astounding 90% over the last 120 days.
The effects look like they could be relatively permanent, too. A survey conducted by CarGurus showed that 44% of people who used mass transit think they will abandon it permanently. Ride sharing services are also feeling the pain: 40% of people surveyed who previously used ride sharing services said they would decrease their usage or stop using such services altogether.
That doesn't bode well for Lyft (LYFT) and Uber (UBER).
The survey also found that 20% of people who were looking to buy a car hadn't been interested in doing so prior to the pandemic. Recall, just days ago we were busy highlighting all of the places nationwide where used car prices had crashed.
In January, prior to the virus shutdowns, auto companies had set the tone for the year, starting 2019 just as miserably as 2018 ended, with major double digit plunges in sales from manufacturers like Nissan (NSANY) and Daimler (DDAIF). Since then, things have only worsened, with major markets like China and the U.S. seeing sales fall off a cliff as consumers have been forced to stay home.
Disclosure: Copyright ©2009-2020 ZeroHedge.com/ABC Media, LTD; All Rights Reserved. Zero Hedge is intended for Mature Audiences. Familiarize yourself with our legal and use policies every time ...
more