USD/PHP Eyes CPI. Asia Markets Await US Shutdown News, Jobs & Fed
The US Dollar heads into the New Year on a weaker note when looking at its performance over the past two weeks. This is despite the Fed delivering more hawkish rate path estimates than what the markets were anticipating. Declines on Wall Street that were the most intense since 2009 were met with the markets pricing out pretty much any hikes from the central bank in 2019.
Given the weakness in the greenback, most ASEAN FX appreciated against it looking at the chart below. What also helped was a last minute recovery in the S&P 500 and to a certain extent in the MSCI Emerging Markets Index as well. This seemed to be because of traders closing their shorts before year-end, resulting in open interest falling as prices rose.
One Asian currency that was relatively mixed against the US Dollar was the Indonesian Rupiah. Indonesia saw its trade deficit widen to its largest since July 2013 unexpectedly at -$2.1b in November. As imports outpace exports, waning demand for the domestic currency can weigh it down. Meanwhile the Bank of Indonesia left rates unchanged and placed more emphasis on currency intervention to uphold the Rupiah.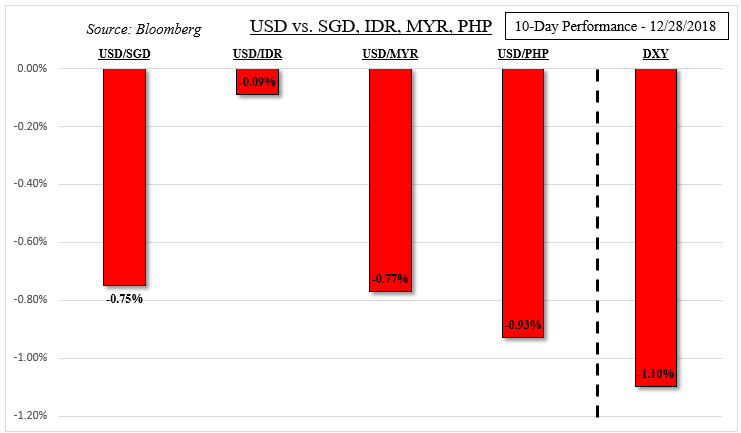 The first week of 2019 is shortened due to the New Year's holiday, placing the focus more towards the latter half. Regionally, Wednesday contains Indonesian CPI data. Headline inflation is expected to tick down to 3.05%. IDR will probably focus more on risk trends given that this is still well within the central bank's expectations for inflation in 2019.
What will likely be more interesting this week is Philippine CPI on Friday. Inflation is anticipated to slow to 5.6% y/y from 6.0% in November. This would be the slowest since June given the decline in crude oil prices, a key import for the nation. The Philippine central bank expects inflation to slow significantly in 2019, signs that it might not may fuel more rate hike bets and potentially boost the Philippine Peso.