USD/MXN Outlook: Mexican Peso Defies Fundamentals Ahead Of Rate-Cut Decision
CHART 1: BLOOMBERG POLL ON THE LIKELIHOOD OF A RATE CUT ON FEBRUARY 13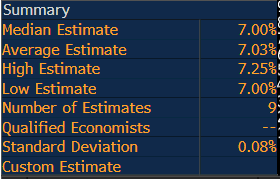 Source: Bloomberg
USD/MXN ANALYSIS AND FORECAST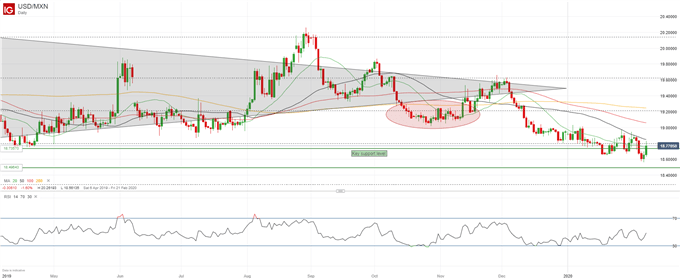 If we look at the USD/MXN daily chart we can see that the price action has followed a similar pattern to the one we were analysing at the end of last week. USD/MXN entered the key support level on Tuesday and remained range-bound as the dollar was supported near the 18.60 handle.
The upward surge in Friday's session has seen the pair erase most of the losses experienced during the week, but risk remains on the downside in the near-term. The 50-day SMA has tracked the upper bound of the descending trendline since the end of January, so we could see some near-term resistance around 18.85, which would push higher towards the USD/MXN 19 handle if broken.
On the downside, we expect to continue to see a key support zone between 18.73 and 18.49, but if broken we could see USD/MXN returning to 2018 lows at 17.93.
It looks at this point that price action will follow the path of least resistance, which at this point seems to be lower. A resurgence in risk-off sentiment would see an upward correction come in to play, but the effect will probably be short-lived. Key focus will be on next week's interest rate decision meeting and the rhetoric used by the Central Bank to describe their growth prospects.
Despite its performance in the last few months, the longer-term expectation is that price action will return to the higher rage of 19, supported by strength in the US economy.