USD/JPY, USD/CHF Bounce From Support Ahead Of The Fed
US DOLLAR DROPS AHEAD OF DECEMBER FOMC
Tomorrow marks the start of this week's high-impact events on the economic calendar, with UK inflation kicking off the day at 4:30 AM ET, and this is followed by Canadian inflation numbers at 8:30 AM. Later in the afternoon brings the final FOMC rate decision of the year, and this carries the wide-expectation of another 25 basis point rate hike out of the bank for the fourth such move in 2018. This rate hike has been long-expected, and while delaying tomorrow's move might appear to be a positive for equity markets in the short-term, this may actually create more stress than it quells; so it looks as though the Fed will stick to the plan and hike rates.
The big question around the Fed for tomorrow is how aggressive the bank might be looking to move rates in 2019 and thereafter. At this point, markets expect one rate hike next year. The Fed, per the most recent dot plot matrix, are looking at two to three. Will the Fed back down after the Q4 volatility in equities? Or will the bank continue to look to normalize policy given the continued strength in employment and with inflation remaining above 2%?
Ahead of tomorrow's rate decision the US Dollar is continuing to fall after last week's test of fresh yearly highs. The Dollar nudged slightly above the prior high watermark last Friday morning. Since then, the currency has been in retreat, falling below last week's support zone and making a fast move towards the 96.47 level that's already been tested twice in the month of December.
US DOLLAR FOUR-HOUR PRICE CHART
(Click on image to enlarge)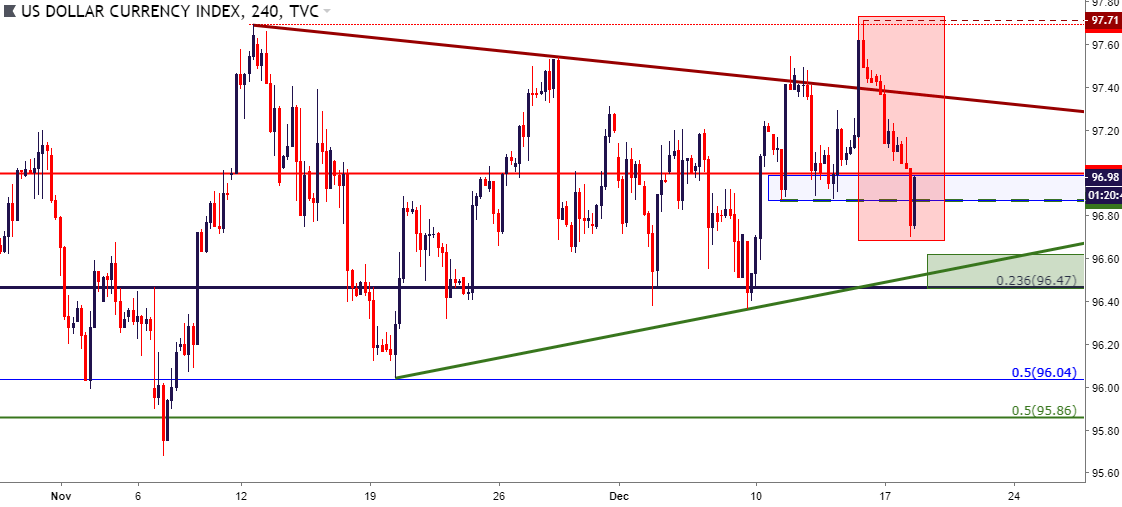 FRESH SIX-MONTH LOWS IN STOCKS MAKE FOR A DIFFICULT ENVIRONMENT FOR TIGHTER POLICY
While the Fed's dual mandate appears ready to absorb another rate hike, the current global backdrop would be an awkward outlay for longer-term hawkishness. It was just a couple of days after the Q4 open that US equities began to swan dive, and this took place on the heels of a speech from Jerome Powell in which the head of the US Central Bank implied that a number of rate hikes remained on the table as the Fed was 'a long way' from the neutral rate. In short order, equities started to erase prior Q3 gains and by the time late November rolled around, Powell's verbiage had shifted to a softer tone. In late November, Chair Powell said that the Fed was 'just under' the neutral rate, and this provided a spate of strength that lasted into November. But, even that couldn't hold as resistance soon showed up around the 23.6% retracement of the 2018 move in stocks, and sellers re-gained control to push prices down to fresh six month lows, which showed up yesterday.