USD/JPY Pulls Back Ahead Of NFP Report On Fed's Wait-And-See Guidance
USD/JPY pulls back from the monthly-high (112.14) even as data prints coming out of the U.S. instill an improved outlook for the economy, and the exchange rate may continue to consolidate ahead of the Non-Farm Payrolls (NFP) report as it snaps the series of higher highs & lows from the previous week.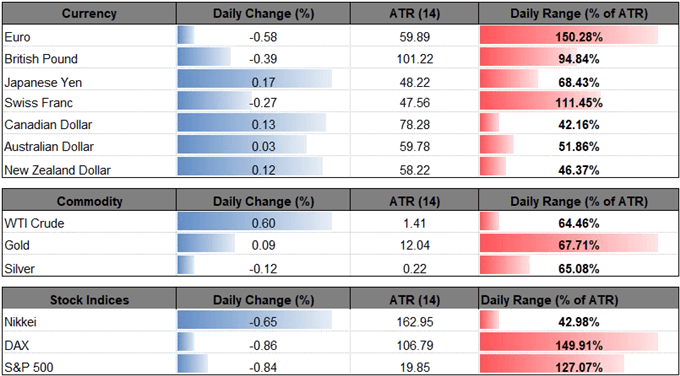 USD/JPY PULLS BACK AHEAD OF NFP REPORT ON FED'S WAIT-AND-SEE GUIDANCE

The USD/JPY advance following the U.S. Gross Domestic Product (GDP) report appears to be stalling as Federal Reserve officials continue to tame bets for higher interest rates, and it seems as though the central bank will defend the wait-and-see approach at the next rate decision on March 20 as the Trump administration struggles to reach a trade deal with China.
Recent remarks from New York Fed President John Williams, a permanent voting member on the Federal Open Market Committee (FOMC), suggest the central bank will continue to alter the forward-guidance amid the 'downturn in global growth, heightened geopolitical uncertainty, and the effects of tighter financial conditions,' and Chairman Jerome Powell & Co. may start to taper the $50B/month in quantitative tightening (QT) over the coming months as 'the Committee can now evaluate the appropriate timing and approach for the end of balance sheet runoff.'

However, the FOMC may have a difficult time in defending the wait-and-see approach for monetary policy as U.S. Initial Jobless Claims unexpectedly narrows to 223K from a revised 226K in the week ending February 23, with Continuing Claims highlighting a similar dynamic as the figure slips to 1755K from 1805K in the week ending February 16. The slowdown in claims for unemployment benefits bodes well for the NFP report, which is anticipated to show the U.S. economy adding another 180K in February, and a positive development may heighten the appeal of the dollar as it puts pressure on the Federal Reserve to squeeze in a rate-hike later this year.