USD/JPY Outlook Mired By Lower Highs & Lows, Bearish RSI Formation
USD/JPY attempts to recoup the losses from earlier this week as U.S. Treasury Secretary Steven Mnuchinemphasizes that there are 'no indications whatsoever of a recession on the horizon,' but the recent series of lower highs & lows raises the risk for a further depreciation in the exchange rate especially as the Relative Strength Index (RSI) clings to the downward trend from late-2018.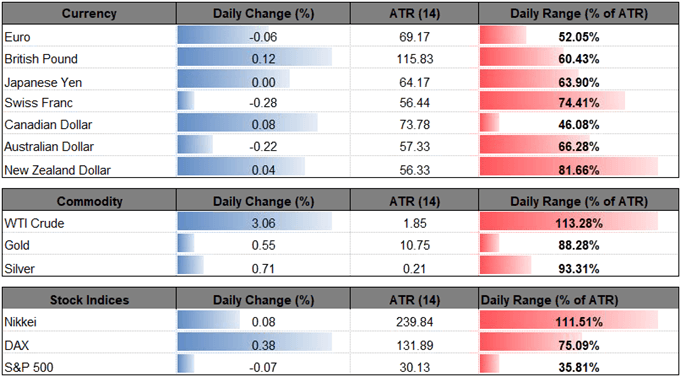 USD/JPY OUTLOOK MIRED BY LOWER HIGHS & LOWS, BEARISH RSI FORMATION

It seems as though USD/JPY will hold a narrow range ahead of the Federal Reserve's first meeting for 2019 as the central bank is widely expected to retain the current policy, but fresh comments from Chairman Jerome Powell may shake up the dollar as the central bank plans to hold a new series of press conferences after delivering its interest rate decision.
The push for greater transparency may spur increased volatility across foreign exchange (FX) markets as the Federal Open Market Committee (FOMC) appears to be on track to alter the forward-guidance for monetary policy, and a batch of less-hawkish comments may ultimately drag on the greenback as the central bank comes under pressure to halt the hiking-cycle ahead of schedule.

It remains to be seen if the Fed will adjust the $50B/month in quantitative tightening (QT) as Chairman Powell sees the balance sheet to returning to a 'more normal level,' and little to no evidence of a recession may keep the FOMC on course to further normalize monetary policy in 2019 as 'members judged that some further gradual increases in the target range for the federal funds rate would be consistent with sustained expansion of economic activity, strong labor market conditions, and inflation near the Committee's symmetric 2 percent objective over the medium term.'
The diverging paths for monetary policy predicates a long-term bullish outlook for USD/JPY as the Bank of Japan (BoJ) continues to embark on its Quantitative/Qualitative Easing (QQE) Program with Yield-Curve Control, but the currency market flash crash appears to have shaken up retail interest as traders remained positioned for a larger rebound.