US: Vibrant Manufacturing Heaps More Pressure On The Fed
With manufacturing and construction activity surging ahead and inflation pressures becoming more evident the Federal Reserve's relaxed attitude to allowing the economy to run hot is going to be increasingly questioned.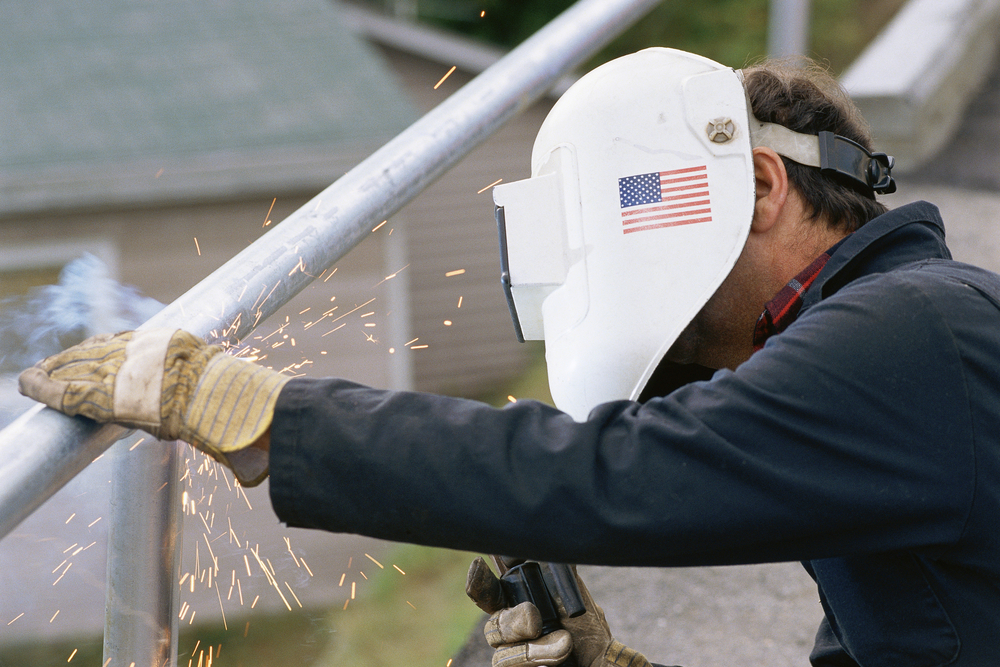 Manufacturing produces the goods
The February ISM headline manufacturing index has risen to a 3-year high of 60.8 from 58.7 in January. This was ahead of the 58.9 consensus, although is broadly consistent with the regional manufacturing surveys. Interestingly, the US manufacturing sector is now outperforming China's and with more stimulus on its way plus the potential for a $3tn+ Build Back Better program, the outlook for growth and jobs is very positive.
ISM & regional surveys and versus the Chinese PMI
(Click on image to enlarge)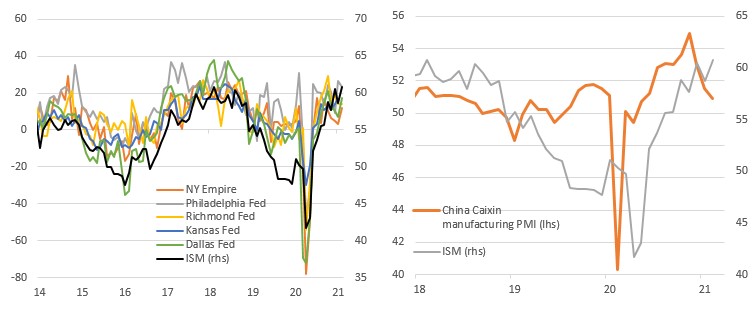 Source: Macrobond, ING
Momentum is strong
Both new orders and output improved and are running at rates in excess of their 6M average, indicating the momentum is good. At the same time, customer inventories have weakened to match their all-time low. Given a strengthening economy, we would expect to see companies ideally wanting to rebuild their inventory levels back towards historical norms. This would indicate that both the orders and output components will continue to perform robustly in the months ahead.
Business optimism was also underlined by the fact that the employment component rose to 54.4, the best reading since March 2019. It looks as though the manufacturing sector will be contributing positively to Friday's jobs report – we forecast a 230k rise in payrolls with the California re-opening providing a lift after January's disappointing 49k outcome.
ISM points to further output gains
(Click on image to enlarge)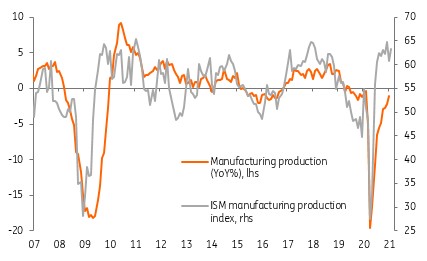 Source: Macrobond, ING
Inflation pressures becoming much more apparent
Inflation pressures continue to rise with the prices paid component rising to its highest level since July 2008. This reflects input costs, particularly commodity and energy, which have been pushing higher for several months now. This is likely to lead to broader price pressures given supplier delivery times posted the second-highest reading since 1979! This indicates some major supply chain issues will push costs even higher and in a strong demand environment, those cost increases can more easily be passed onto consumers
Disclaimer: This publication has been prepared by ING solely for information purposes irrespective of a particular user's means, financial situation or investment objectives. The information does ...
more