US Stocks Drive European Equities Higher, FTSE 250 Pressured By Gold Miners
KEY TALKING POINTS:
DOW JONES REACHES ALL-TIME HIGH
And just like that, the Dow Jones has topped the infamous 30,000 line, an area that has been talked about for several months. It only took a bit of excess liquidity, political breakthrough and hopeful vaccine news to get it there, but traders are likely feeling accomplished right now. Question is, where do we go from here? The S&P 500 is also nearing all-time highs and the Nasdaq is recovering some buyer support as capital is beginning to rotate back into tech stocks. So we can say that US stocks are now currently pushing other equity markets higher, well, that and a generalized risk-on sentiment. (SPX, NDX)
The flow into European markets has been quite clear following the coronavirus outbreak, especially as we've seen a weaker US Dollar during the latter part of the year (UDN). The DAX 30 has been the breakthrough European index this year, being able to amass a return from the March lows that is easily comparable to any of the three major US indices. Nonetheless, the main theme since the coronavirus outbreak has been a positive start to the European session if US stocks dictated as much overnight, despite domestic factors determining performance throughout the rest of the day.
DOW JONES - DAX 30 relative performance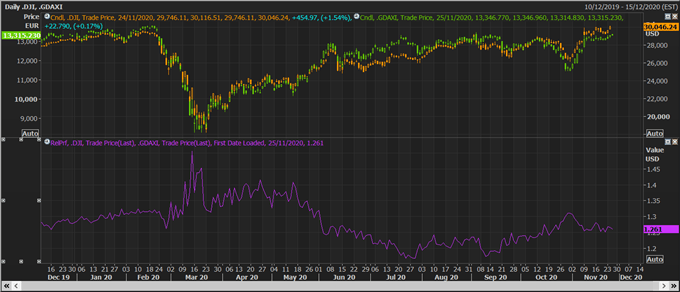 FTSE MID 250 OUTPERFORMS FTSE 100
Interestingly, the FTSE Mid 250, which comprises smaller-cap UK stocks, has outperformed the FTSE 100 in its recovery from the March meltdown, being able to reach the 76.4% Fibonacci retracement level, whilst the UK's main index continues to struggle to push above 61.8%. This is to be expected in part because the smaller-cap index has a broader diversification of industries and a flatter weighting structure, whilst the FTSE 100 is heavily weighted in some sectors, like oil and gas, which has been underperforming in the wake of the coronavirus pandemic. Also playing a part is the Pound's influence on earnings, given that almost 70% of revenue for the FTSE 100 comes from international sources, not ideal when there is a weakening US Dollar and a strengthening Sterling (OIL, UNG, FXB).
Disclosure: See the full disclosure for DailyFX here.