U.S. Stocks At 70 Year High Versus Global Stocks
The chart below shows the demise of 2019 EPS growth estimates. To be clear, the Q4 EPS growth shown below is a blended average which means it includes results and estimates.

Source: The Earnings Scout
Q1, Q2, and Q3 are all expected to have EPS growth with a 3 handle. That's not enough to send stocks in a bear market, but the recent trend signals the decline in estimates won't stop here. There are still a couple months before Q1 EPS results come out. Bad guidance from the firms which haven't reported Q4 results yet could send expectations for growth negative.
FHFA House Price Index
The November FHFA report gives us further clarity into how weak the housing market was at the end of last year. The FHFA house price index showed stable price growth. Month over month price growth was 0.4% which beat estimates for 0.3% and met the growth in October. Yearly growth was stable at 5.8% as the chart below shows.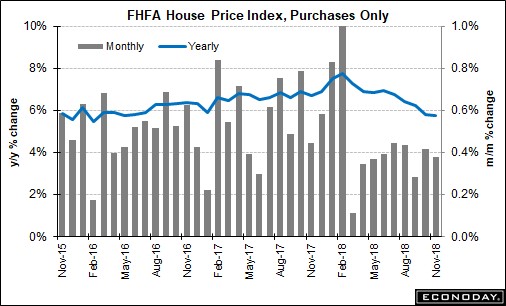 Source: Econoday
Yearly Pacific price growth weakened 0.9% to just 4.8%. That's about half the growth rate in the middle of 2018. The Mountain region had 7.4% growth which was down 1.3% form October. The East South Central improved the most as growth increased from 4.9% to 7.3%. Mid-Atlantic price growth improved from 3.4% to 4.8%. The fact that this housing report wasn't a disaster should be considered good news.
Conclusion
It's no surprise the labor market is strong, and the housing market was relatively weak in November. It's interesting to see that the sharp weakness in the Pacific and the recent pickup in the Mid-Atlantic have put their price growth rates on par. Political instability has been a buying opportunity in the past. However, that buying opportunity may have been in December as stocks have rallied very quickly this year already. Some year-end S&P 500 targets have been surpassed in the first month. It might not be ideal to buy stocks now as earnings estimates have been cratering. It wouldn't be bad if earnings grew 3% in 2019, but that doesn't seem like where estimates will end up. In the long run, American stocks might underperform as they are at a 70 year high versus global stocks.
Disclaimer: Please familiarize yourself with our full disclaimer here.