U.S. Stocks At 70 Year High Versus Global Stocks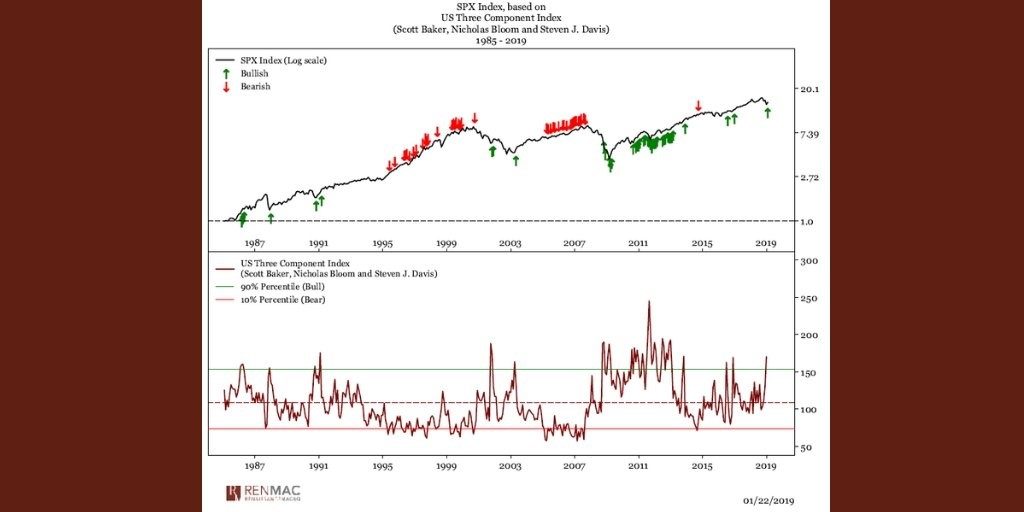 Source: Renaissance Macro Research
Since the 1980s, it has been a good time to buy the S&P 500 when policy uncertainty was high and a good time to sell when uncertainty was low. That might be because stocks get too expensive when uncertainty is low and stocks get too cheap when uncertainty is high.
The key point is to stay within a range of expectations. If America were to shift from a mixed economy into a socialist one, uncertainty probably wouldn't successfully work as a buying opportunity. However, if fears of socialist policies become high even though they are unlikely to get enacted, then it would be a huge buying opportunity.
US Stocks At 70 Year High Versus Global Stocks
It's important for investors to avoid home country bias if they live in America because as the chart below shows, American stocks are at a 70 year high versus other developed markets.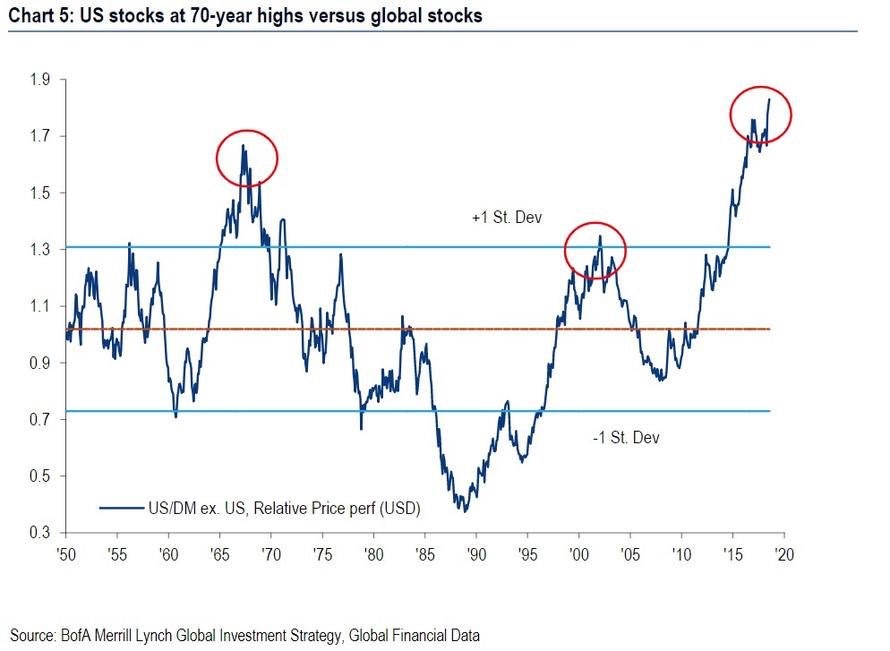 Source: Merrill Lynch
The Shiller PE ratio is at 29 which is above the long term average of 16.6. This 10 year ratio should fall as the 2009 earnings reports stop being included. A big catalyst for this rally in American stock during the past decade versus other developed markets is America's major internet names. America has a bigger tech sector than other countries.
In terms of CAPE, this relationship has occurred because foreign stocks are very cheap and American stocks are more expensive than average. Keep in mind, this chart doesn't mean a reversal will occur this year. The European economy is weakening quickly while America is probably in a slowdown. One example of the weakness in Europe is that in France business confidence fell to 102 in January. Besides December, that's the lowest reading since November 2016.
Source: Insee
Earnings Update
Q4 2018 earnings haven't been terrible, but their effect on future estimates has been. Specifically, as of Wednesday evening, 107 S&P 500 firms have reported EPS growth of 17.9% with 73% beating estimates. They have had 6.1% sales growth as 58% have beaten estimates.
Disclaimer: Please familiarize yourself with our full disclaimer here.