U.S. Stocks At 70 Year High Versus Global Stocks
Pew Research conducted many interesting surveys in January. Since we don't have access to a myriad of government reports from November and December, these alternative reports carry more weight. The chart below shows a survey conducted from January 9th to the 14th.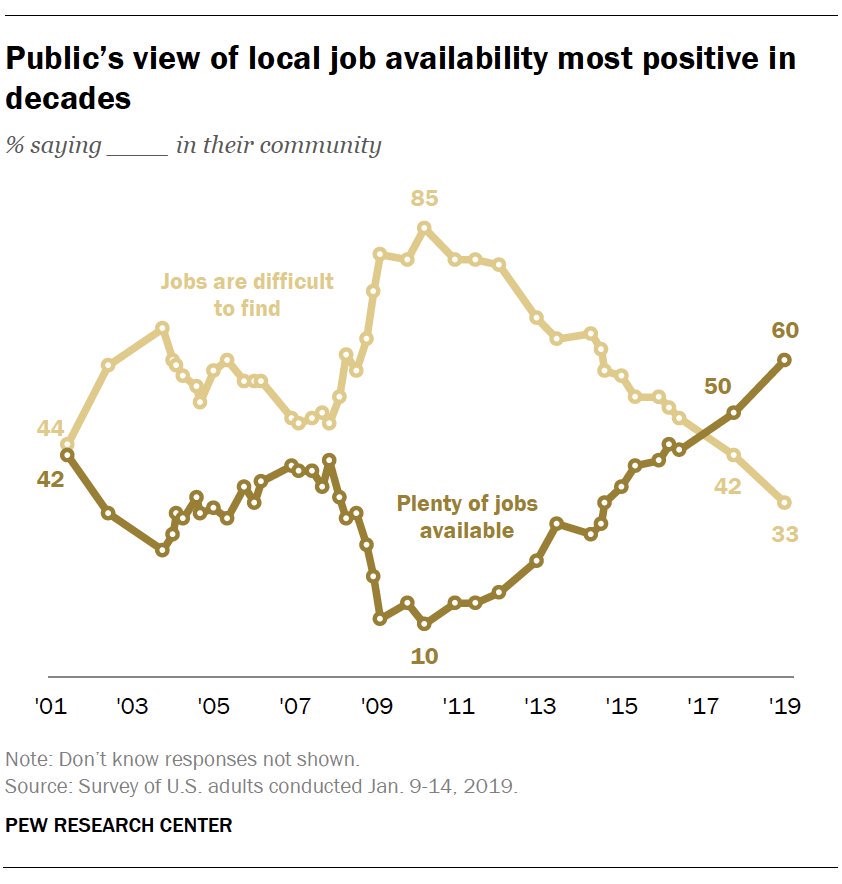 Source: Pew Research Center
Respondents were asked if jobs were difficult to find in their neighborhood or if there were plenty of jobs available. 60% said there were plenty of jobs which is the highest percentage since the survey started in 2001. 33% said jobs were difficult to find which is the lowest since at least 2001. This survey is consistent with the extremely low jobless claims of 199,000 as of the week of January 19th.
We wish this survey would have captured the end of the 1990s cycle to better compare the fullness of the labor market with that one. The end of the 1990s was when the labor market was the fullest in history in terms of prime age labor participation. All we can tell from this survey is the labor market is much stronger than it was at the peak of last cycle. Since this is the case, it's fair to assume this strength would challenge the late 1990s labor market.
Even though we often discuss how relatively strong the consumer is because it has deleveraged this cycle, it's worth noting that there are still a lot of people struggling. Only 51% stated their personal financial situation was excellent or good, while 48% said it was fair or poor. There hasn't been much vacillation in this survey going back until 2004.
Members of the GOP probably caused the University of Michigan survey to decline in January. In September, 57% of Republicans/lean GOP were expecting economic conditions to improve in the next year compared to only 46% now. This could be because of the Democrats winning the House, the government shutdown, the trade war, or the stock market volatility.
Policy Uncertainty Is A Buy Sign
It's clear there is high policy uncertainty in America. The Democrats have won the House on the back of a more progressive agenda. We don't know when the 34 day government shutdown will end. We also don't know if President Trump will broker a deal with China that will have fair intellectual property laws and lower the American trade deficit. You would think policy uncertainty would be bad news, but the chart below something else.
Disclaimer: Please familiarize yourself with our full disclaimer here.