US: Robust ISM Highlights The Boost From Asia
The US ISM manufacturing index rose strongly in December despite the regional indicators from the eastern and central parts of the US pointing to a decline. With the Chinese PMI at firm levels and Asia, in general, looking a bright spot in the global economy, this is seemingly giving a lift to more western and export-orientated companies.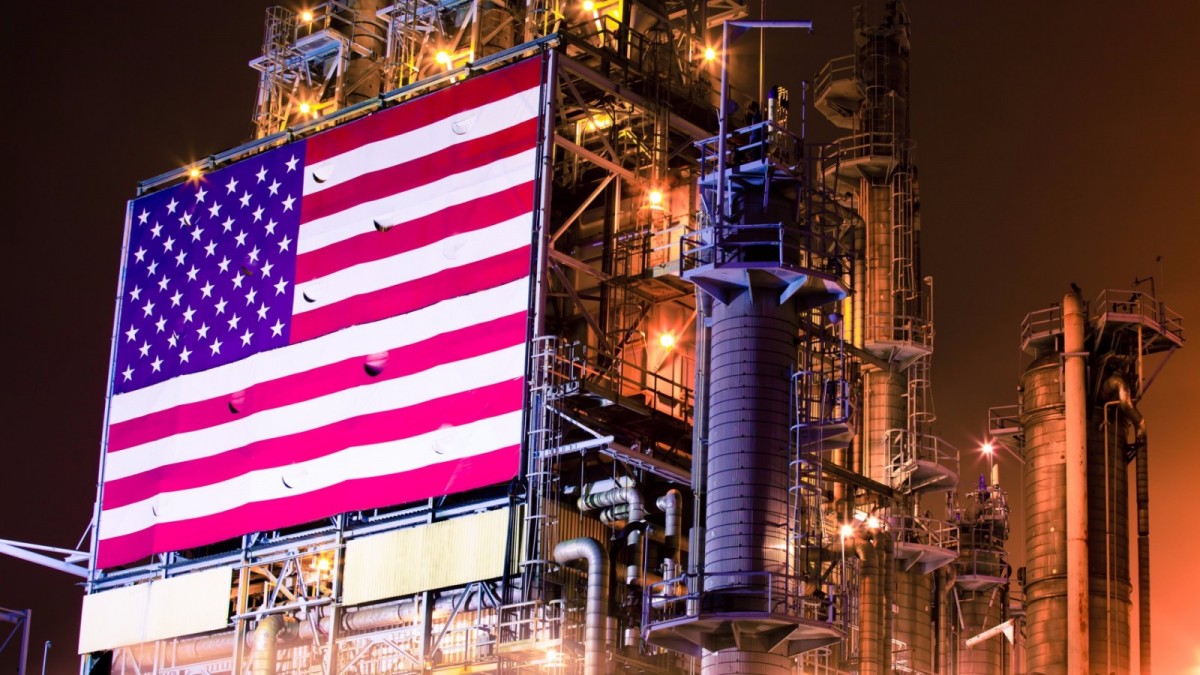 ISM manufacturing at a two-and-a-half-year high
The December ISM manufacturing report is much stronger than predicted and offers hope that the manufacturing sector can continue to perform strongly and add jobs through 2021. Rather than fall from 57.5 to 56.8 as forecast by the consensus surveys, it actually rose to 60.7, led by gains in output, orders, and employment.
It is something of a surprise given that the regional surveys had pointed to a fall, but the regional indicators overwhelmingly reflect what goes on the east of the Rocky Mountains. As you can see in the chart below the dominant ones the market typically looks at are the NY Empire survey and the Philadelphia, Dallas Richmond, and Kansas Fed surveys, which point to a much softer performance than the national ISM index.
With the Chinese Purchasing Managers' Index (PMI) at very strong levels and Asia being an obvious bright spot it must be that the western part of the US is doing very well, despite the COVID containment measures in California, as are other manufacturers focused towards Asian markets.
ISM versus regional PMIs and ISM versus China PMI
(Click on image to enlarge)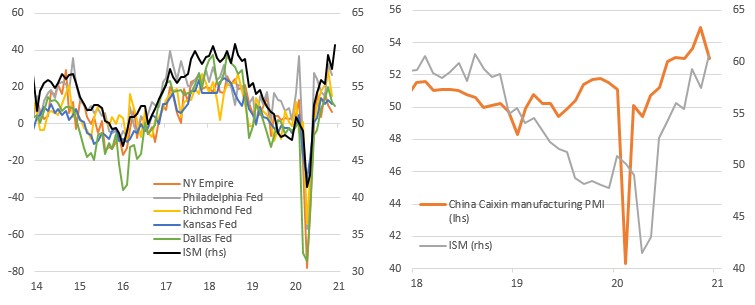 Source: Macrobond, ING
Output is accelerating despite COVID strains
Looking at the details the headline index is now the highest it has been since August 2018 while new orders were up nicely at 67.9 from 65.1 and production rose to 64.8 from 60.8. With customer inventories still looking very low by historical standards (index level at 37.9 where the break-even level is 50), this suggests that the new orders numbers are going to remain firm for a good while to come and that the manufacturing sector looks on course for a very good year.
Disclaimer: This publication has been prepared by ING solely for information purposes irrespective of a particular user's means, financial situation or investment objectives. The information ...
more