US Private Domestic Sector Books A $208B Surplus In May 2019
The purpose of this article is to assess the macro-fiscal flows for May 2019 and determine what effect these flows will have on the stock market and the economy.
Macro fiscal flows impact investment markets with a lagged effect of typically one month. A flush of funds now from government spending or credit creation by banks will lead to a boost in investment markets one month later.
To understand the fiscal flows, one has to look at the balance of sectoral flows within the US economy using stock flow-consistent sectoral flow analysis using the national accounts.
Professor Wynne Godley first comprehended the strategic importance of the accounting identity, which says that measured at current prices, the government's budget balance, less the current account balance, by definition is equal to the private sector balance.
GDP = Federal Spending [G] + Non-Federal spending [P] + Net Exports [X]
As a percentage of GDP, all three sectors sum to zero and balance each other out.
A table of recent sectoral balance flows is shown below: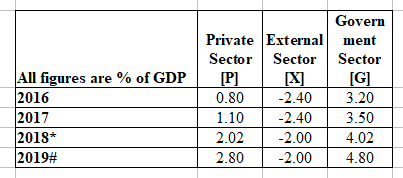 (Source: FRED plus author calculations)
*Estimate to be updated when the end-of-year numbers are known.
#Forecast based on existing flow rates and plans.
A recession has never occurred while the private domestic sector balance is in positive territory and has always happened when it is in negative territory. It is the best-kept secret national balance of accounts accounting.
The chart below shows the newly released government budget data with the stock market superimposed over it.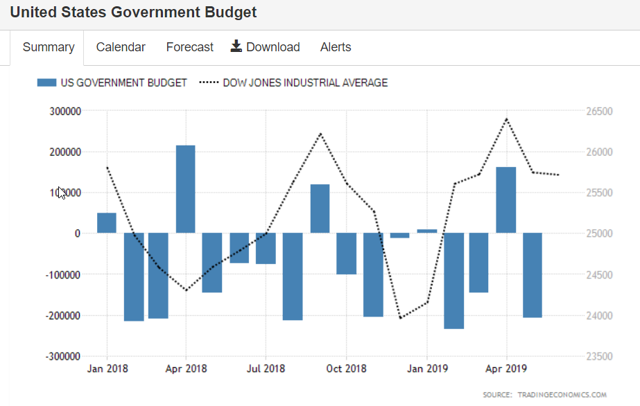 Surplus budget months are always associated with the end of a peak or a trough in the stock market.
It shows a deficit for May 2019 of $208 billion, which in reserve accounting terms means money added vertically into the economy by the currency issuer that now appears on measures of money supply, such as M1, M2, and M3. This money has been created at a keystroke as a result of the government paying its bills for goods and services received from the private sector and also for benefit payments. It is all private sector income.