US Futures, European Stocks Slide As Trade Fears Return
US equity futures and European markets fell after a mixed session in Asia as a better than expected start to earnings season was overshadowed by resurfacing trade tensions between the U.S. and China amid a federal investigation into Huawei Technologies for allegedly stealing trade secrets, as fears about profits and global economic headwinds returned on news Apple plans to cut back hiring for some divisions while Singapore exports unexpectedly fell. Treasuries and the dollar were mixed.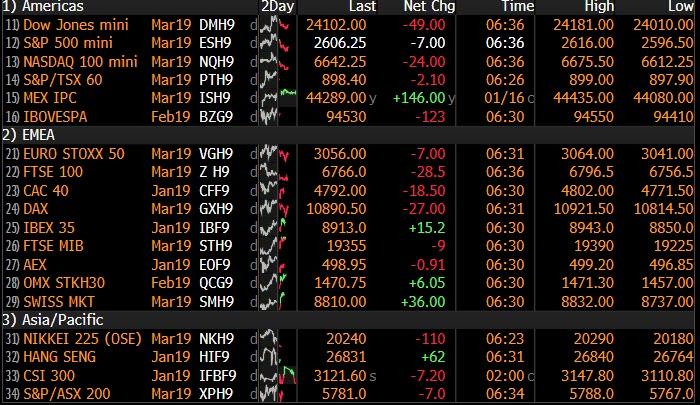 Europe's Stoxx 600 Index was down 0.2%, dragged lower by autos and leisure stocks, although defensive food and drink stocks rebound from Wednesday's drop. After being the top performing sector Wednesday, the Stoxx 600 Bank Index declined 1.5% in early trading, making it the worst performing industry group in Europe on the day, and erasing nearly half of Wednesday's gain after French bank Societe Generale warned it now sees a 20% trading revenue drop on challenging markets, dragging its stock as much as 4% lower. The Stoxx 600 Automobiles & Parts index slumped, hitting Germany's auto and export-heavy DAX, after Senate Finance Committee Chairman Chuck Grassley said President Donald Trump was inclined to impose tariffs on European cars to win better terms on agriculture.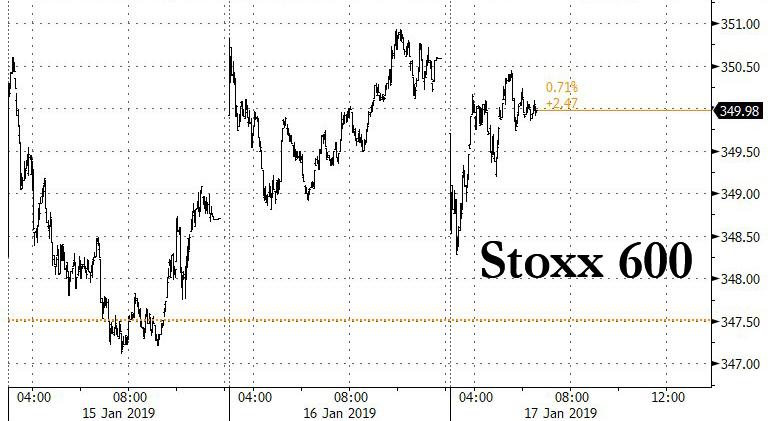 "There is some focus on the Grassley comments in relation to auto trade tariffs and also reference to there not being much progress in the U.S. China negotiations last week," said Bank of Tokyo Mitsubishi strategist Derek Halpenny. "There has obviously there has been a lot of optimism (in markets) since the start of the year and risk appetite has had a pretty good run, but this will place a few question marks over that."
In the UK, the FTSE 100 Index underperformed despite a stable pound, as Prime Minister Theresa May began talks with her political rivals to try deliver a Brexit deal.
Fresh news was thin as European trading got underway, but traders had more than enough to digest from last 24 hours to follow Asia's overnight dip into the red. China's blue-chip index ended down 0.55%, led lower by a decline in the country's second-largest home appliances maker, Gree Electric, after it warned of slower profit growth as the economy loses steam. Chinese Premier Li Keqiang promised increased government investment this year and the country's central bank injected more cash into the financial system, bringing the amount for the week to 1.14 trillion yuan ($168.74 billion).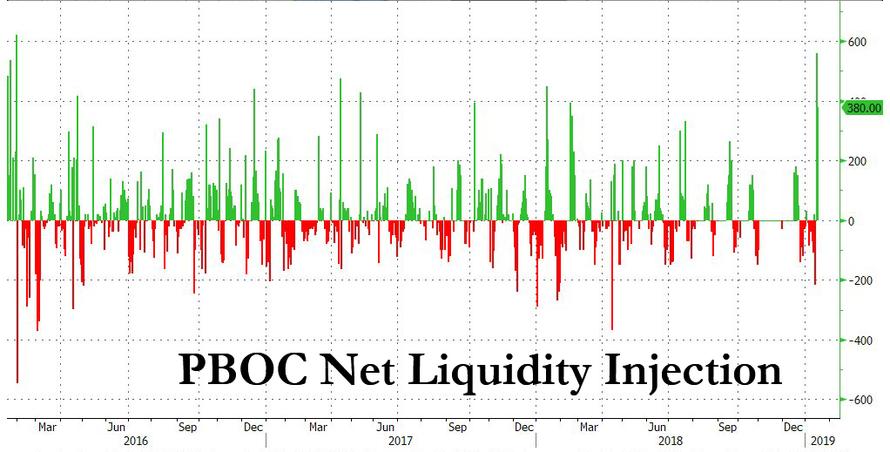 Shares in Hong Kong tumbled, and some companies dropped more than 75 percent without obvious explanations.
Stoking some caution was news that U.S. lawmakers introduced bills on Wednesday that would ban the sale of U.S. chips or other components to Huawei or other Chinese telecommunications companies that violate U.S. sanctions or export control laws. That came shortly before the Wall Street Journal reported federal prosecutors were investigating allegations that Huawei stole trade secrets from U.S. businesses. Separately, Handelsblatt reported the German government is actively considering stricter security requirements and other ways to exclude Huawei from a buildout of fifth-generation (5G) mobile networks.
Also lurking were worries that the U.S. government shutdown - now in its record 27th day - was starting to take a toll on its economy. White House economic adviser Kevin Hassett said the shutdown would shave 0.13% off quarterly economic growth for each week it goes on.
A better-than-expected start to the earnings season has so far not been enough to spur an extended rally, and on Thursday S&P futures were down 0.3%, the same as Dow futures while Nasdaq futures were 0.4% lower. The VIX was trading 1.5% higher.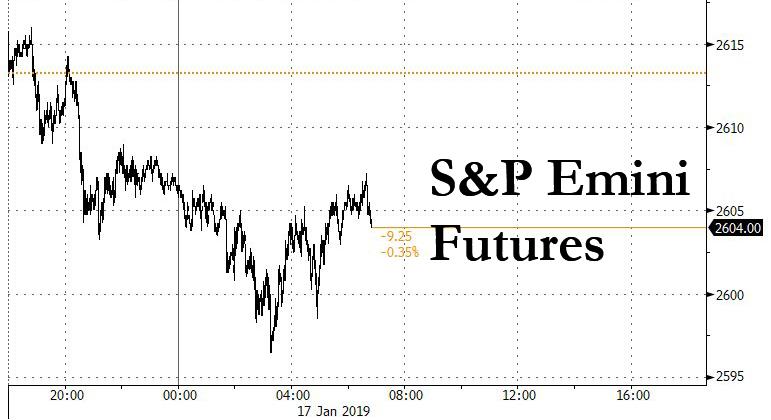 As Bloomberg writes this morning, risk assets are showing fresh signs of fatigue after a stronger start to 2019 than 2018's (and the January meltup), when optimism about trade tensions and central bank support overshadowed a litany of concerns as the global economy slowed. Now with both the U.S. government shutdown and Brexit impasse dragging on, and lingering stress between America and China, there are plenty of reasons for caution.
Over in Brexit-land, as expected, British Prime Minister Theresa May narrowly won a confidence vote overnight and invited other party leaders for talks to try to break the impasse on a Brexit agreement. An outline for Plan B is due by next Monday. Markets assume the exit date will be extended past March 29.
"Nothing has happened in the last 24 hours to dissuade us from the view that we are headed in the direction of an Article 50 delay, a softer Brexit or no Brexit," said Ray Attrill, head of FX strategy at NAB. This left the pound steady at $1.2872, though still short of Monday's peak at $1.2929. It reached a seven-week low against the euro before steadying at 88.50 pence
UK PM May said there is now an opportunity to find a way forward on the Brexit and that she intends to deliver on Brexit which she believes it is her duty to do so. PM May also said we must work out what lawmakers want and that she spoke to several parties although the Labour party leader has yet to take part in discussions, while there were comments from Labour Party leader Corbyn who declared there will be no talks with PM May until a no-deal Brexit is off the table.
BBC's Political Correspondent Nick Eardley tweets "Tory sources predict majority of Conservatives in Commons would refuse to back permanent customs union and several ministers would quit." Subsequently reported that the EU are to condition any potential delay to Brexit on an agreement being struck between UK PM May and opposition leader Corbyn, according to El Pais.
In central bank news, Fed's Kashkari (Non-Voter, Dove) said Fed has less room to cut rates in future downturn but has other tools, while he repeated that he wants to see wage growth and inflation before backing a rate hike.
In the ongoing shutdown drama, President Trump signed bill to give Federal workers back pay from the shutdown, while there was also reports that the White House threatened to veto the stopgap bill the House is preparing, while US Senate Finance Committee Chairman Grassley said Trump administration's trade negotiations may be delayed due to government shutdown.
In currencies, the U.S. dollar was mixed, easing against the yen to 108.79 but flat versus the euro at $1.1396. The dollar index was up at 96.088. The yen led G10 gains following a U.S. probe into China's Huawei and as equities and emerging-market currencies drifted lower. The dollar rose on supportive early London flows yet lost steam as the session progressed and the euro and sterling eventually erased modest losses. Commodity currencies were under pressure as risk sentiment waned, with Treasuries edging up and oil lower.
In commodities, oil traded lower, with U.S. crude remaining close to $52 a barrel as traders worried about the strength of demand in the United States after its gasoline stockpiles grew last week more than analysts had expected. Brent (-1.0%) and WTI (-1.2%) prices hover under $61/bbl and $52/bbl respectively, weighed on by the record EIA US crude production figure of 11.9mln BPD for the previous week, an increase from the prior of 11.7mln BPD; a level which was already the largest national output globally. Elsewhere, it has been reported that Russian Energy Minister Novak and Saudi Energy Minister Al Falih are to meet at next weeks Davos summit. Separately, Libyan oil ports Es Sider, Zueitina and Hariga have reportedly reopened following weather improvements. Palladium hit record highs thanks to increasing demand and lower supply. Spot gold was little changed at $1,294.91 per ounce.
Disclosure: Copyright ©2009-2018 ZeroHedge.com/ABC Media, LTD; All Rights Reserved. Zero Hedge is intended for Mature Audiences. Familiarize yourself with our legal and use policies every time ...
more