US Dollar Unable To Rally Even As Risk Appetite Erodes
The US Dollar (via the DXY Index) continues to falter in its role as a safe have currency, failing to generate any upside momentum despite a sharp drop in US equity markets in recent days (futures are pointing lower again). The Dow is off of its yearly high by -7%; the S&P 500 by -8%; and the Nasdaq by -12%. Thus far in Q4'18, US stocks are having their worst quarter in seven years.
Whatever signs of detente in the US-China trade war following the G20 summit in Buenos Aires, Argentina have seemingly gone up in smoke over the past 24-hours following the arrest of Huawai CFO Meng Wanzhou in Canada. While US media coverage has been relatively low key, this is decidely not a low key issue in China (the equivalent would be if an Apple executive was arrested). This may be an attempt by the Trump administration to acquire another negotiating chip, but it hasn't sat well; traders are rightfully concerned
As US Treasury yields pullback amid the demand for less risky assets, two winners have started to emerge in the vacuum of the US Dollar's lacking performance: Gold and the Japanese Yen. For Gold, the drop in nominal yields with no change in inflation data means real yields are falling; falling real yields tend to be good for Gold prices. The move back through 1236.37 on Tuesday could be what's needed to signal the turn; we'll look for confirmation through the end of the week.
Gold Price Chart: Daily Timeframe (July to December 2018) (Chart 1)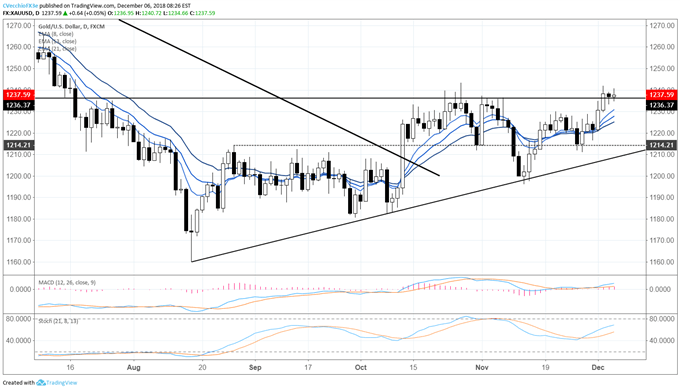 For the Japanese Yen, the combination of weakening global risk appetite, softer US Treasury yields, and a Federal Reserve that looks ready to back off its hawkish policy posture, is starting to pave a more bullish path looking ahead. As USD/JPY looks to break lower out of its symmetrical triangle, pairs like CAD/JPY (breaking its uptrend from March) shouldn't be dismissed either.
DXY Index Price Chart: Daily Timeframe (June to December 2018) (Chart 2)