US Dollar To Rain On Gold's Parade
It was previously thought that the U.S. dollar price of gold would rise in line with the AWMB. While this may happen eventually it is unlikely to do so until the Euro QE turns into QT at a faster rate than US QT.
(Click on image to enlarge)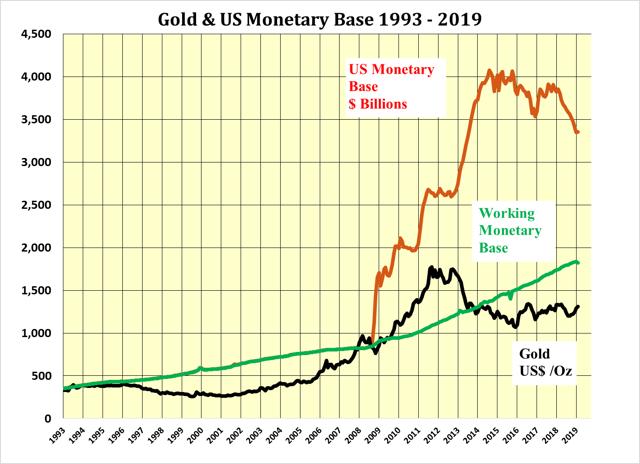 Post Lehman when the U.S. monetary base exploded on the upside with TARP and the subsequent QE, it made a great deal of sense to expect the gold price to track the monetary base into the stratosphere. This together with massive short covering culminated in the bullion price exceeding US$1,900 per ounce in 2011. Thereafter, its subsequent decline was puzzling as QE continued for another three years.
However, it was only after recognizing that much of QE had been sterilized by the huge buildup of excess reserves at the Fed that it made sense for the price of gold to have reverted to the path of the AWMD. It was the recognition of this change that led to the tempering of enthusiasm for a runaway gold price.
In 2015, the price of gold was projected to recover to the US$1,400 level by 2016, tracking the AWMB. This was almost achieved on a daily basis but its advanced was tempered by the strength of the U.S. dollar in 2017 and 2018 as later anticipated.
Following the same argument and with the AWMB now standing at $1.84 trillion, an equilibrium price for gold should be approximately $1,840 per ounce, all other things being equal. However, as the total U.S. monetary base is falling and the U.S. dollar is strengthening it seems likely that any significant gold price advance will remain tempered until it is fully recognized that the AWMB is the important vector to watch and this should continue to rise as excess reserves are moved into the real economy.
Buying Gold Shares is only for Patient Investors
If one believes in gold's recovery, eventually or otherwise, and one has patience, buy shares of companies that have the following attributes.
Located in a safe Jurisdiction. (Wherever that might be these days!)
In production
High level of free cash flow.
Low AISC
Reserves of 10 years or greater.
Selling at a discount to its 10% DCF
Plans to expand production with construction underway.
Highly prospective exploration brownfield properties or the same nearby to maintain and expand reserves as mines deplete
Cash in the bank to explore and expand
Good focused management.
Paying a dividend to pay for patience.
Disclosure: I have no positions in any stocks mentioned, and no plans to initiate any positions within the next 72 hours.
I wrote this article myself, and it expresses my own opinions. I am not ...
more