US Dollar Price Breakout Still Possible; US-China Trade War Latest
The turn through the middle of May has brought about a new wave of US Dollar strength, largely mirroring the rise in US Treasury yields in recent days. With the British Pound proving volatile around the latest Brexit headlines and the Euro proving weak in the run-up to the European parliamentary elections, The DXY Index was able to post a fresh monthly high on Tuesday, drawing into focus a potential bullish breakout opportunity around the May FOMC minutes release midweek.
US-CHINA TRADE WAR LATEST
After surprise developments over the past few weeks, the day-to-day movement on the US-China trade war seems to have slowed considerably. But now that the Trump administration has drawn Huawei into the US-China trade war, it's clear that we're still in the process of further escalation, not de-escalation. That's to say that neither country is ready to move past the impasse. For markets, indeed, US-China trade war tensions remain, but beyond verbal jousting, no new tariffs appear on the horizon.
As noted previously, market participants should to keep on eye on USDCNH prices for the foreseeable future as a gauge for trade tensions: China has used devaluation as a tool to neutralize the impact of the tariffs. Accordingly, traders may see Chinese Yuan strength (USDCNH weakness) as a sign that the trade tensions are de-escalating; and that Chinese Yuan weakness (USDCNH strength) may be interpreted as a sign that the trade tensions are escalating.
AHEAD OF MAY FOMC MINUTES, 2019 RATE CUT ODDS FALL (TABLE 1)
(Click on image to enlarge)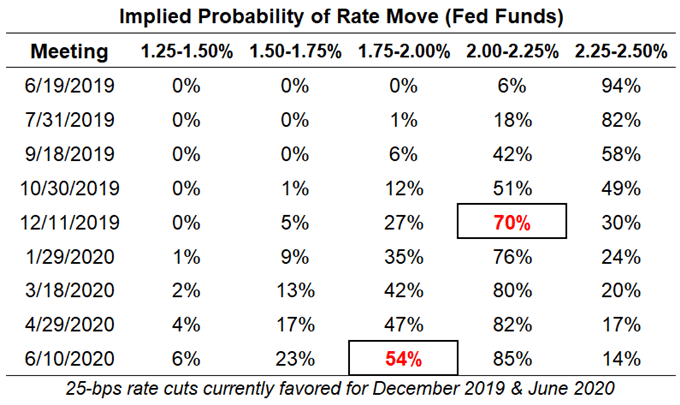 During the May Fed meeting and press conference at the start of the month, Fed Chair Jerome Powell said that low inflation was "transitory" and not "persistent." At the time on May 1, market participants interpreted this as a sign that the likelihood of a 25-bps rate cut this year is lower than previously expected: odds of a cut by September had fallen to 26% and odds of a cut by December were 50%.