US Dollar May Build On Rebound As Market Mood Sours Further
(Click on image to enlarge)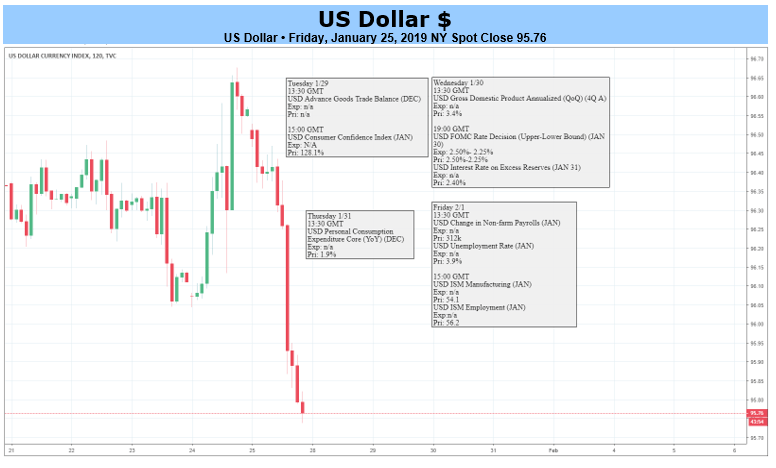 US DOLLARFUNDAMENTAL FORECAST: BULLISH
US Dollar gains as global stocks break 6-week winning streak
Global growth fears may continue to stoke haven USD demand
Brexit, US border policy and US-China talks are wildcards
The US Dollar roared higher, scoring the largest gain in six months last week. Most of the move occurred against a backdrop of deteriorating risk appetite, as expected. The MSCI World Stock Index snapped a six-week uptrend amid swelling global slowdown fears, stoked by ominous comments from the RBA and BOE as well as signs of trouble in Brexit and US-China trade negotiations.
The week ahead may offer something similar. Inflation, retail sales, and consumer confidence figures headline the domestic docket. Outcomes echoing the potent upturn in realized US data outcomes relative to forecasts since the beginning of the year might inspire a shift to a less-dovish setting on priced-in Fed policy bets. That may be doubly supportive for Greenback if it stokes risk aversion along the way.
Meanwhile, the first RBNZ policy statement since November and soundbites from a gathering of the Eurogroup may keep worries about slowing growth in the headlines. On the political front, the UK Parliament will vote on alternatives to Prime Minister May's defeated Brexit withdrawal bill as US officials scramble to reach an immigration policy compromise before stop-gap funding for the government expires Friday.
On balance, this speaks to the kind of environment that is likely to inspire de-risking across financial markets. That bodes well for the benchmark US currency as its unrivaled liquidity serves as a magnet for haven-seeking capital flows. A longshot political breakthrough on either side of the Atlantic – or perhaps even between Washington and Beijing – seems to be the most significant risk to such a scenario.