US Dollar Continues To Follow Rise In US Treasury Yields; ECB Tomorrow
The US Dollar (via the DXY Index) is trading at its highest level since January 12 as price flirts with a break back above the 2017 low near 91.01. Yesterday's close was the second consecutive close above the trendline from the November and December 2017 highs, giving further credence to the near-term bottoming effort that may be in play via the inverse head & shoulders pattern that formed throughout March.
The main catalyst for US Dollar strength continues to be the rise in US Treasury yields, which is proving a potent factor for pairs like USD/CHF and USD/JPY: weakness in equity markets is producing no such 'demand of safe haven' effect in the face of widening interest rate differentials. The US Treasury 10-year yield touched a high of 3.034% earlier today, just below the high of 3.040% set back in January 2014.
WHAT TO EXPECT FOR THE ECB MEETING TOMORROW
Even though the European Central Bank policy decision tomorrow will not bring forward a new set of Staff Economic Projections, odds are seemingly high that ECB President Mario Draghi will strike a more dovish tone than he has in the past.
Part of the reason for disappointment in some of the data and inflation expectations in recent weeks can be attributed directly to the Euro itself: it remains up by nearly +9% year-over-year on a trade-weighted basis. The stronger the Euro is relative to its peers, the less appealing Eurozone exports appear, plain and simple.
Price Chart 1: EUR/USD Daily Timeframe (April 2017 to April 2018)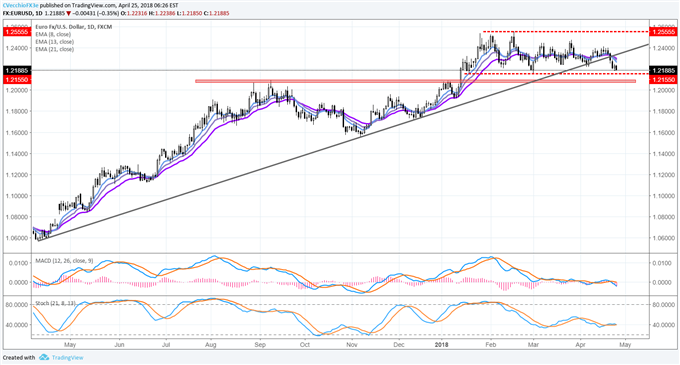 Accordingly, despite no new projections being set forth, we expect that Draghi & Co. will outline a more dovish set of expectations moving forward via the press conference held following the rate decision itself – a rate decision that will see no change in rates. In fact, looking at overnight index swaps, there is a 25% chance of a rate move by the end of 2018, but rates markets aren't pricing in a policy change in earnest until at least Q3'19.