US Corporate Debt: Warning Signs?
Comparing the recession of 2001 and the recession of 2007-2009 reminded economists of an old lesson: A crash of asset prices in the stock market or housing can be a nasty hit for an economy, but when problems arise where many debts aren't going to be repaid in full or on time, the shock to the financial system and the economy can be much worse. For example, one study of the Great Recession found that about one-quarter or one-third of the decline in output was because of the fall in housing prices, while about two-thirds or three-quarters of the decline was related to how problems related to excessive debt worked their way through the financial system
The theme here is that debt isn't necessarily a problem in itself. But when (not if) a bad economic shock hits, then high levels of debt can amplify a moderate economic problem into a severe one. Robert S. Kaplan explores the issue of "Corporate Debt as a Potential Amplifier in a Slowdown" (March 05, 2019). Kaplan is from the Federal Reserve Bank of Dallas, and he's one of those from the regional Federal Reserve Banks who rotates back and forth between being a voting member and an alternate on the Federal Open Market Committee--the committee that decides whether interest rates will be rising or falling. Here are some points he makes:
Nonfinancial corporate debt as a share of GDP is up. It's higher than it was at the three previous peaks--each of which preceded a recession. That is, this isn't just a matter of banks lending back and forth to each other, or to other financial institutions.
(Click on image to enlarge)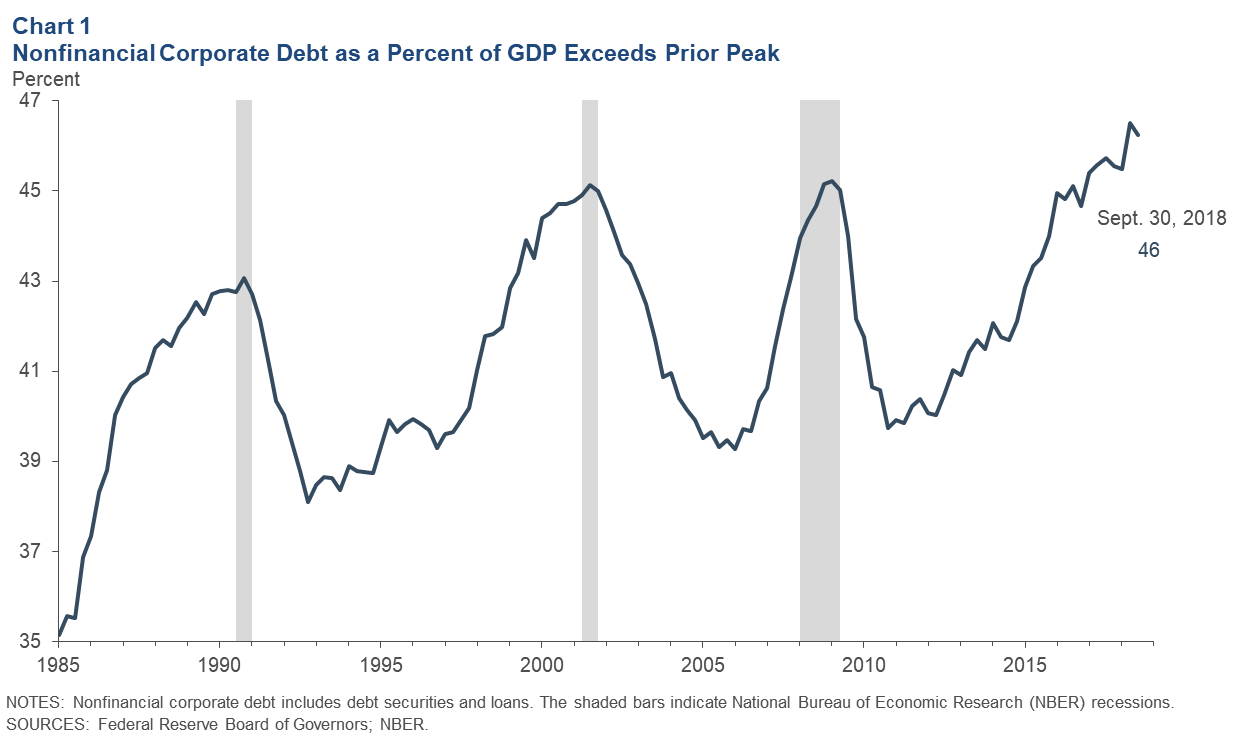 How are companies borrowing? One method is by issuing bonds. the figure shows that the total corporate bonds outstanding is way up in the last 10 years, now at about $5.7 trillion.In particular, bonds rated BBB are way up--the rating that is the lowest possible for a bond to still be treated as "investment grade" rather than "high-yield."