US Budget Deficit Soars 77% As Federal Interest Expense Hits Record High
According to the CBO, the budget deficit in fiscal 2019 will widen to $897 billion, up by $118 billion from a year earlier; any economic recession will result in a far greater number.
Finally, and perhaps most concerning, is that for the first four months of this fiscal year, interest payments on the U.S. national debt hit $192 billion, $17 billion, or 10% more than in the same four-month period last year and the most interest ever paid in the first third of the fiscal year. As Reuters' Jeoff Hall points out, annualizing the $192BN interest expense means that the interest on U.S. public debt is on track to reach a record $575 billion this fiscal year, more than the entire budget deficit in FY 2014 ($483 BN) or FY 2015 ($439 BN), and equates to 2.7% of estimated GDP, the highest percentage since 2011.
(Click on image to enlarge)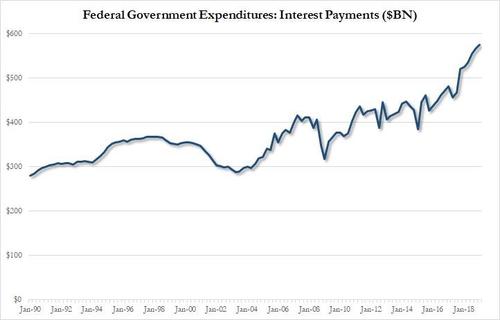 And since total debt, which recently surpassed $22 trillion is only set to keep rising - once the latest pesky debt ceiling issue is resolved in a few months - expect interest on the debt to keep rising, especially if the Fed reverts to its tightening trajectory, and hit $1 trillion per year in a few years, making it one of the biggest spending categories, and on pace to surpass total US defense spending (roughly $950BN per year) in dollar terms in just a few years.