Upbeat Australia Retail Sales Report To Fuel Bullish AUD/USD Series
AUD/USD pares the weakness following the larger-than-expected slowdown in China's Consumer Price Index (CPI), and fresh data prints coming out of Australia may fuel the recent series of higher highs & lows in the exchange rate as Retail Sales are projected to increase another 0.3% in November.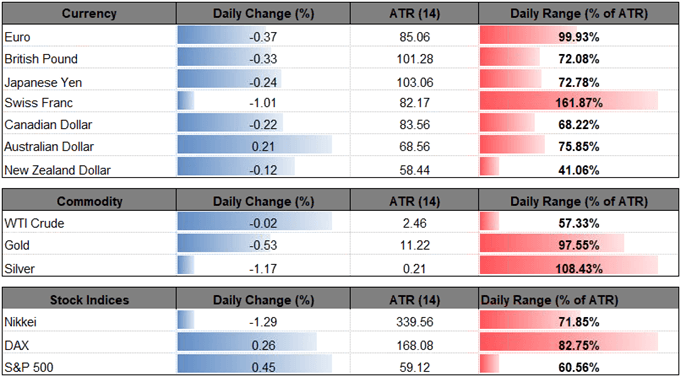 AUD/USD 2019 OPEN RANGE RAISES RISK FOR LARGER FLASH-CRASH REBOUND

The AUD/USD rebound following the currency market flash-crash may get a boost as the underlying strength in private-sector consumption puts pressure on the Reserve Bank of Australia (RBA) to alter the monetary policy outlook, and the central bank may adopt a more upbeat tone at the next meeting on February 5 especially as U.S. President Donald Trump tweets that 'talks with China are going very well'.
The easing threat of a U.S.-China trade war should keep the Australian dollar afloat as it removes a major downside risk for the Asia/Pacific region, and the central bank may start to prepare households and businesses for a less-accommodative stance as 'members continued to agree that the next move in the cash rate was more likely to be an increase than a decrease'.
(Click on image to enlarge)

However, it remains to be seen if Governor Philip Lowe & Co. will lift the official cash rate (OCR) off of the record-low in 2019 as 'there was no strong case for a near-term adjustment in monetary policy,' and the RBA's wait-and-see approach may continue to rattle the broader outlook for AUD/USD as the Federal Reserve removes its non-standard measures.
Even though the Federal Open Market Committee (FOMC) appears to be approaching the end of the hiking-cycle, fresh comments from Chairman Jerome Powell suggests the Fed will continue to unload its asset-holdings in 2019 as the balance sheet is expected to return to a 'more normal level.' The quantitative tightening (QT) is likely to drag on aussie-dollar rate as long as the RBA remains reluctant to implement higher interest rates, but the monthly opening range raises the risk for a larger correction as the exchange rate initiates a series of higher highs & lows.