Tsunami Warning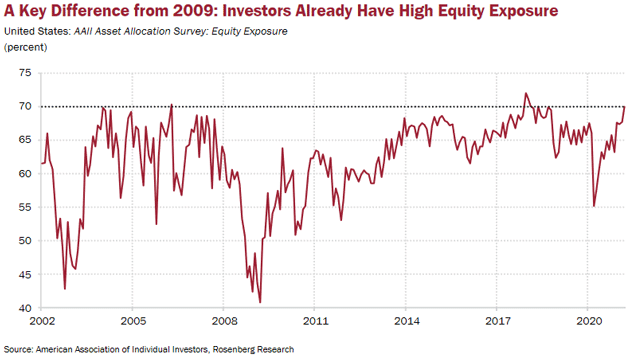 Source: Rosenberg Research
As you can see, equity exposure dropped in early 2020 as the coronavirus struck, climbed sharply, and is now far stronger than it was when the last bull market began in 2009. I'm not sure the AAII survey captures the individuals trading small amounts on Robinhood and other apps. But their inclusion would only make the point stronger. A bull market needs fuel and this one has already burned a lot of it.
This is important also because we are talking about percentages, which include whatever money people may have received from the various stimulus programs. That money is already in the woodpile and being burned along with preexisting cash. Dave has another chart showing the result. Comparing S&P 500 gains in the last four recessions, this one is stronger than the others were.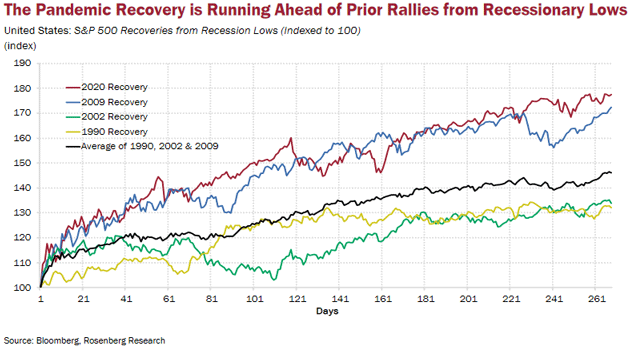 Source: Rosenberg Research
This market recovery has actually tracked the 2009 one pretty closely. But remember the previous chart: In 2009, investors had pulled out and then spent months furiously reinvesting. The current recovery happened with people closer to fully invested. That means it is even stronger than the price action shows.
None of this means the bull will tire in the near future. Major market trends often persist far longer than we think possible. Precedent is reliable until something unprecedented happens. It is certainly plausible to think the economy will bounce once the pandemic is out of the way, which we all hope will be soon.
I've noted how crises often generate growth-sparking innovations. Good things may be coming. The question is whether they will both justify today's valuations and even higher future valuations that justify further price gains.
Let's think about this. The Fed is adding QE at an ~$1.5 trillion annual pace. They say interest rates won't rise until 2023 at the earliest. The US government (by my latest count) has thrown, or soon will, $5 trillion of stimulus money, almost 25% of annual GDP, into the economy. Yes, not all of it goes directly to individuals, but it will eventually find a home, creating new jobs or programs.
At some point the government stimulus simply has to stop. Job openings are plentiful and the economy is opening up. Employers are having to pay much higher wages to get someone to come to work. When you can make $20-$30,000 a year staying at home, $10-$12 an hour just isn't appealing. Ironically, the unemployment checks are actually creating wage inflation.
While we may get a massive infrastructure bill later this year, it will be spread out over a decade. I don't think we are going to see anything like the current free-for-all, multi-trillion-dollar injections like the last 12 months.
The Contest of Supply Versus Value
Central banks and governments worldwide are supplying massive amounts of rocket fuel for supercharged markets. The yields on high-yield bonds (junk bonds) are close to the recent all-time lows. Investors are desperate for yield and the only place that seems to offer return, if you're only paying attention to price momentum, is the stock market. So Baby Boomers and retirees, along with their Millennial children, are taking more risk than they can possibly imagine.
Disclaimer:The Mauldin Economics website, Yield Shark, Thoughts from the Frontline, Patrick Cox's Tech Digest, Outside the Box, Over My Shoulder, World Money Analyst, Street Freak, Just One ...
more