Trump And Powell More Dovish. Will Gold Fly Away?
President Trump and President Xi Jinping agreed to halt escalation in their trade conflict. At the same time, the Fed officials became more cautious about the pace of future interest rate hikes. How will the softening of the US trade and monetary policies affect the gold market?
Trade Truce and Gold
Have you heard about the Christmas truce? It was a series of unofficial ceasefires across the Western Front during World War I around Christmas Day in 1914. In that time, men from both sides emerged from the trenches and met in No Man's Land to exchange gifts, take photos, sing carols and play football. Really. We were also moved. It shows that there might be a moment of peace even during a dreadful war.
Fast forward to Trump's trade war with China. Of course, and luckily, it has been only a trade dispute, not a military conflict. But the press has been reporting about "trade truce" recently. The analysts refer to the G20 summit in Argentina held over the weekend. During the summit, there was a meeting between Trump and Xi. Both sides agreed to hold off on new tariffs, softening the trade conflict. In particular, the US agreed not to raise tariffs further on January 1st, 2019, as it was planned, while China agreed to buy more agricultural products from U.S. farmers. Moreover, the two sides decided to negotiate over the next 90 days to resolve contentious issues.
On Monday, Trump tweeted:
My meeting in Argentina with President Xi of China was an extraordinary one. Relations with China have taken a BIG leap forward! Very good things will happen," Trump tweeted on Monday.
Investors also cheered the 90-day ceasefire and the stock markets went up. As a consequence, the US dollar softened, while gold shined, as one can see in the chart below.
Chart 1: Gold prices from November 30 to December 3, 2018.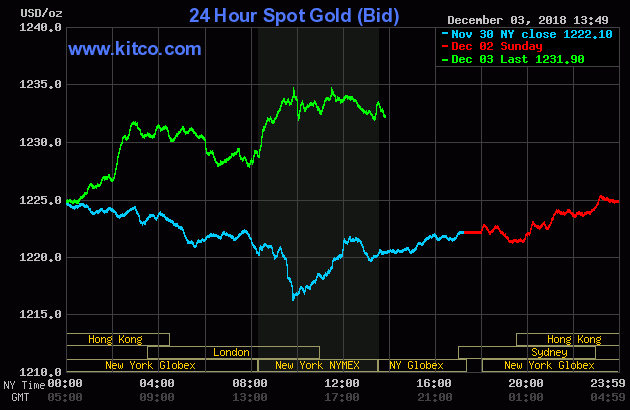 However, the truce is not the end of the trade fight. All the freshly imposed tariffs are still in place. And 90 days might be not enough to resolve all the problems. So, yes, things look better than a week ago, but the "war" is not over – and the fight might re-escalate. Hence, the recent gains in the gold market might be temporary. Remember Christmas truce in 1914? It was a beautiful time, but the WWI lasted four another long years. You have been warned.
If you enjoyed the above analysis and would you like to know more about the most important macroeconomic factors influencing the U.S. dollar value and the price of gold, we invite you to read the ...
more