Treasury Keeps Bond Auctions Sizes Unchanged At Record High As It Warns On Debt Ceiling
Two days after the US Treasury surprised rates watchers by unveiling that it would sell nearly 5x more Treasuries in the current quarter than previously expected ($465BN vs $95BN) and $1.3TN over the second half of the fiscal year while reducing the amount of cash released from the TGA...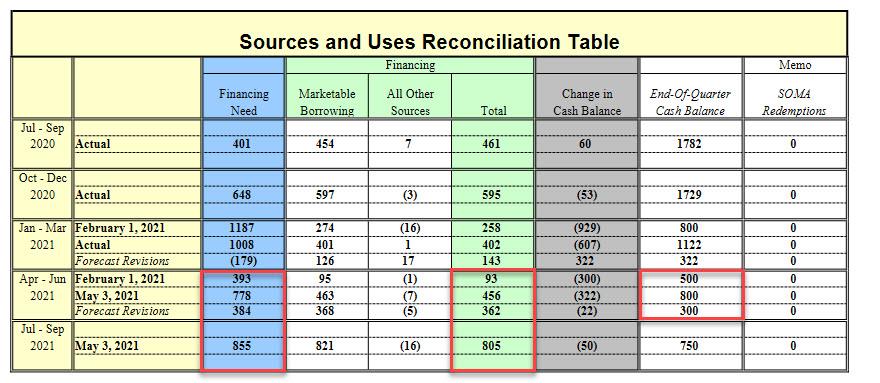 Source: Treasury Sources and Uses Table
... at 830am on Wednesday in its latest quarterly Refunding Announcement, the Treasury announced that it would keep its quarterly auction of long-term coupon debt unchanged, and at an all-time high, of $126 billion (vs $84 billion a year ago) to refund approximately $47.7 billion of Treasury notes and bonds maturing on May 15, 2021. This issuance will raise new cash of approximately $78.3 billion. The securities to be auctioned off are:
$58BN in 3-year notes maturing 2024 on May 11, unch from $58BN in February

$41BN in 10-year notes maturing 2031 on May 12, unch from $41BN in February

$27BN in 30-year bonds maturing 2051 on May 13, unch from $27BN in February.
As Bloomberg notes, this was the first time in more than a year that the refunding total hasn't risen, "suggesting that financing needs have peaked."
The Treasury said that other nominal note and bond auction sizes are expected to remain unchanged during the quarter as well, the Treasury said adding that as usual, the balance of Treasury financing requirements over the quarter will be met with weekly bill auctions, cash management bills (CMBs), and monthly note, bond, Treasury Inflation-Protected Securities (TIPS), and 2-year Floating Rate Note (FRN) auctions.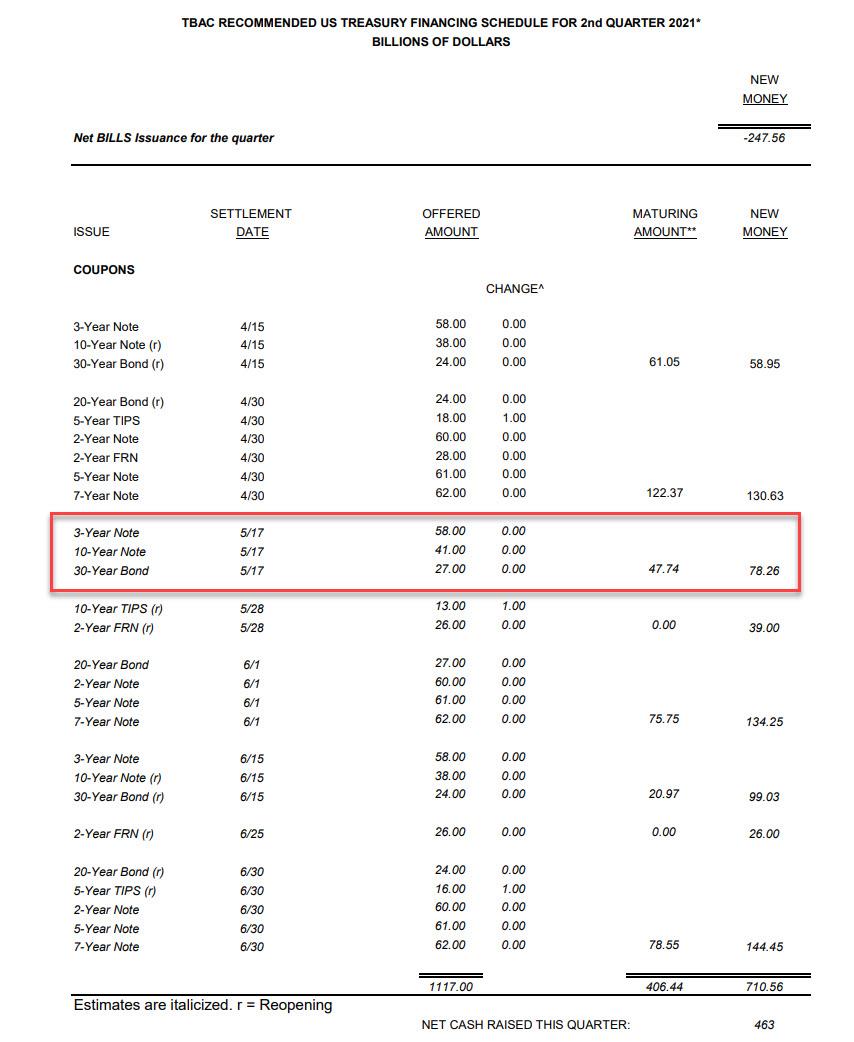 "Between April 2020 and February 2021, Treasury substantially increased issuance sizes for nominal coupon and FRN securities and has announced its intention to gradually increase TIPS issuance this year" the refunding announcement said. "Treasury believes that these previously announced changes continue to provide sufficient capacity for Treasury to address near-term projected borrowing needs. Accordingly, Treasury is announcing that it anticipates no changes to nominal coupon and FRN auction sizes over the upcoming May to July 2021 quarter."
Discussing its projected financing needs, the Treasury said it "continues to face uncertain and sizable borrowing needs due to expenditures associated with the government's response to COVID-19 as well as the impact of the pandemic on economic activity and government receipts." It also said that it plans to address any seasonal or unexpected variations in borrowing needs over the next quarter through changes in regular bill auction sizes and/or CMBs.
The Treasury also warned that it may face challenges if Congress fails to suspend or increase the federal debt limit when the current suspension runs out at the end of July. On previous occasions, the Treasury has used various measures to keep servicing federal debt outstanding while lawmakers and the White House wrangled over raising the ceiling. But this year could bring added strains, the department said.
Disclosure: Copyright ©2009-2021 ZeroHedge.com/ABC Media, LTD; All Rights Reserved. Zero Hedge is intended for Mature Audiences. Familiarize yourself with our legal and use policies ...
more