Treasury Announces Record $112BN Quarterly Debt Sale, Unveils Tsunami Of New Bond Issuance
Just two days after the Treasury unexpectedly hiked its forecast for debt issuance in the current quarter by $270BN from $677BN to $947BN (after a record $2.75 trillion last quarter)...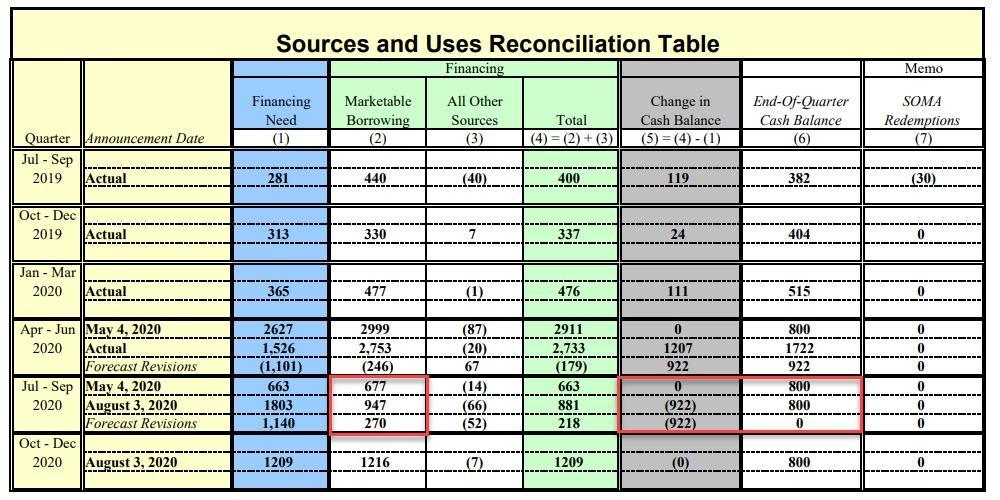 ... it was generally expected that today's quarterly refunding announcement would be another blowout with the Treasury expanding its issuance of longer-term debt in coming months, after depending mainly on shorter-dated bills to fund the record deficit.
Sure enough, it was all that and more.
Specifically, the Treasury announced that it would offer a record $112 billion of long-term Treasurys to refund approximately $49.5 billion of Treasury maturing on August 15, 2020. This issuance will raise new cash of approximately $62.5 billion. The securities are:
$48BN in 3-year notes maturing August 15, 2023, Exp. $48BN vs $42BN in May;
$38BN in 10-year notes maturing August 15, 2030; Exp. $35BN, vs $32BN in May;
$26BN in 30-year bonds maturing August 15, 2050, Exp. $25BN vs $22BN in May;
In addition, the Treasury also announced that it anticipates increasing the sizes of the 2-, 3-, and 5-year note auctions by $2 billion per month. As a result, the size of the 2-, 3-, and 5-year note auctions will each increase by $6 billion by the end of October. Treasury also anticipates increasing the size of the 7-year note auction by $3 billion per month over the next three months. As a result, the size of the 7-year note auction will increase by $9 billion by the end of October.
Treasury is also announcing increases of $6 billion to both the new and reopened 10-year note auction sizes, and increases of $4 billion to both the new and reopened 30-year bond auction sizes starting in August.
The table below presents the anticipated auction sizes (in $ billion) for the upcoming quarter; of note, the schedule exceeds that TBAC's recommendations, suggesting a mismatch with primary dealers:

In total, the Treasury expects that over the three months through October, it will ramp up nominal coupon issuance by a total of $132 billion compared with the previous quarter; it also intends to increase auction sizes across all nominal coupon tenors over the August-October quarter, with larger increases in longer tenors (7-year, 10-year, 20-year, and 30-year). Treasury also intends to modestly increase auction sizes for FRNs while leaving auction sizes for TIPS unchanged.
Disclaimer: Copyright ©2009-2020 ZeroHedge.com/ABC Media, LTD; All Rights Reserved. Zero Hedge is intended for Mature Audiences. Familiarize yourself with our legal and use policies every ...
more