Trading An Iron Ore Top: Prices Stall Amid Record Chinese Imports And Inventories
Iron ore may have reached a new inflection point with a price rally coming to a halt in January and some related stocks consolidating near multi-year highs. When I last made an iron ore trade in September, 2017, I was responding to a surprise projection from the Reserve Bank of Australia (RBA) that suggested a top in iron ore. From that post I concluded the following:
"If the RBA is correct, iron ore is at risk of revisiting the lows from June. Also, at best, a fresh rally should only carry iron ore back to the high from August. Translating these bounds into short-term stock moves, the upside risk is around 5% and the downside opportunity is about 20%. The long side of the pairs trade is mainly a hedge in case the RBA's expectations prove incorrect. I am more willing to bias to the downside given the iron ore inventories that have piled up. High inventories have been a story all year but did not prevent the relief rally over the summer. Current inventory levels were last seen over 5 years ago."
I bought call options on BHP Billiton (BHP) and put options on Rio Tinto (RIO) as part of a pairs trade. While iron ore prices continued to drift down to an October low, both RIO and BHP went into a multi-month consolidation; the pairs trade slowly wilted on the vine. A major breakout in December saved the long side of the trade and allowed me to salvage some value.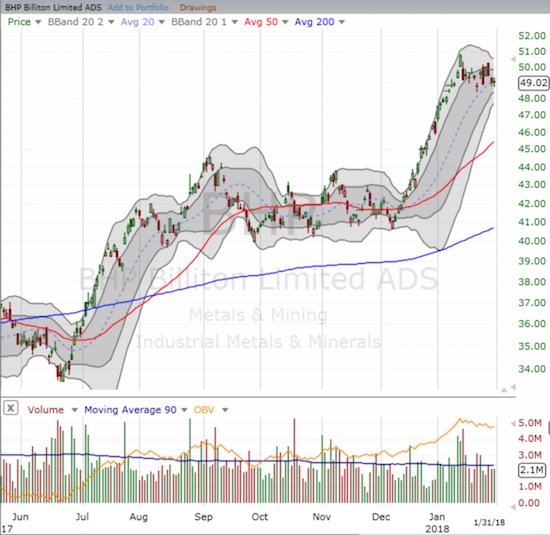 BHP Billiton (BHP) broke out in December from a multi-month consolidation period. The resulting rally was nearly relentless for a month before coming to a screeching halt at a 2 1/2 year high.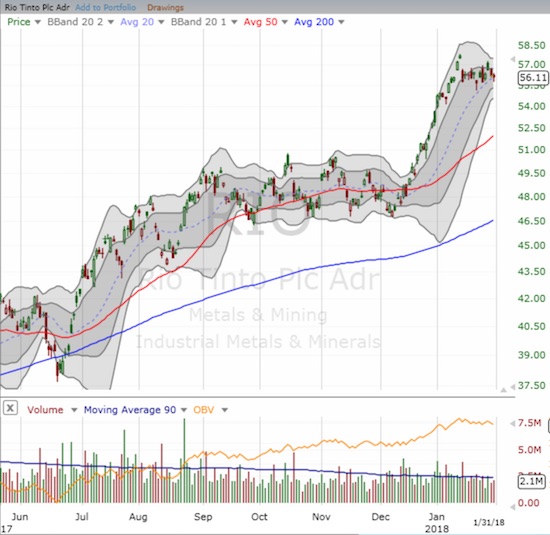 Rio Tinto (RIO) followed the same breakout and rally pattern as BHP.
Source: FreeStockCharts.com
As the chart below shows, August has indeed held as a top for iron ore. However, the price decline from that top did not quite reach the June low. In early January, 2018, the price of iron ore completed a 2-month rally by peaking at the high made last August. If the upward momentum does not return soon, 2017's peak in February will loom large from a seasonal standpoint.
Disclosure: Long BHP put options.
Follow Dr. Duru's commentary on financial markets via more