Trade War Fears Again, Will Stocks Resume The Downtrend?
The U.S. stock market indexes lost 0.4-1.0% on Friday, retracing some of their recent advance, as investors' sentiment worsened again. On Monday a week ago the S&P 500 index fell the lowest since late March, and it got very close to the 2,800 mark (daily low at 2,801.43). Then it rebounded to the resistance level of around 2,890-2,900. It currently trades 3.2% below its May the 1st record high of 2,954.13. The Dow Jones Industrial Average lost 0.4% and the Nasdaq Composite lost 1.0% on Friday.
The nearest important resistance level of the S&P 500 index remains at 2,880-2,900, marked by the previous support level. The resistance level is also at 2,920-2,930. On the other hand, the support level is at 2,850. The support level is also at around 2,800-2,820, marked by the recent local lows.
The broad stock market retraced all of its December sell-off and it broke above the last year's high recently. But then the index broke below the short-term consolidation and it retraced all of the April's advance. The market also broke below its two-month-long upward trend line. Last week the S&P 500 index retraced some of its recent declines. For now, it looks like an upward correction: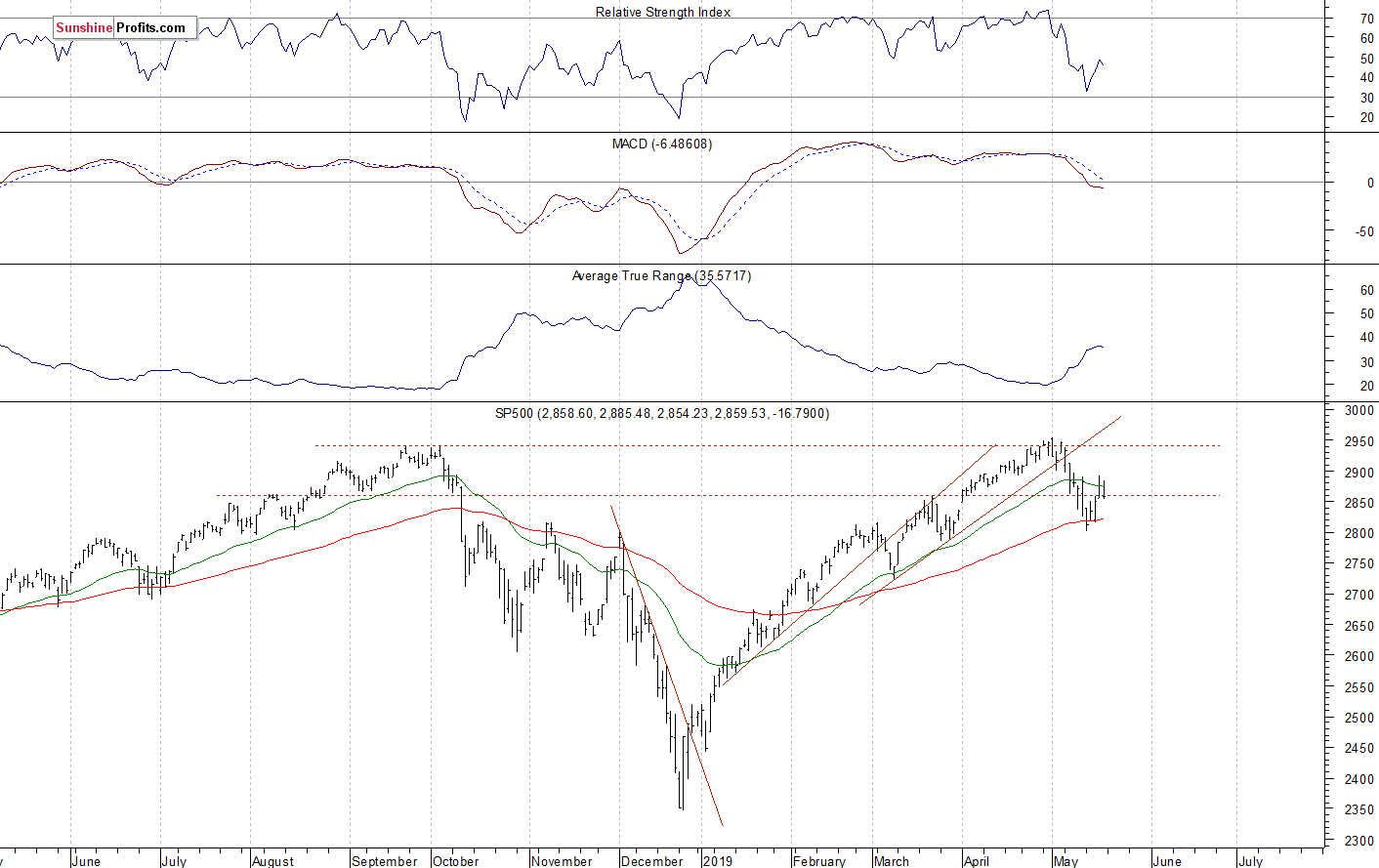 Negative Expectations
Expectations before the opening of today's trading session are negative, because the index futures contracts trade 0.5-1.2% below their Friday's closing prices. The European stock market indexes have lost 1.0-1.5% so far. There will be no new important economic data announcements today. However, the market will await the Fed Chair Powell speech at 7:00 p.m.
The broad stock market will likely continue its Friday's intraday decline today. It bounced off the resistance level on Friday and it retraced some of its recent advance. The recent rally looked like an upward correction of a new downtrend. If the market breaks below the support level of around 2,820, we could see more selling pressure.