Trade Hope Rally Fizzles In Europe After China Soars To Four Month High
The latest "trade hope" rally which sent the Dow Jones up 444 points on Friday, fizzled overnight as stocks in Europe and U.S. futures drifted in thin trading (US exchanges are closed for Presidents' Day) even after a rally in Asia boosted shares to their highest level since October on delayed catch up to the US.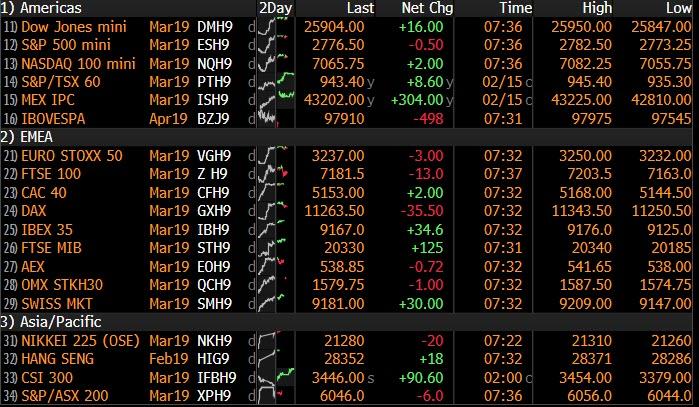 The Stoxx Europe 600 was flat, with the Stoxx 50 little changed on the session, with the Dax declining while peripheral indexes IBEX 35 and FTSE MIB outperformed, as gains in telecommunications companies offset declines in carmakers, after President Donald Trump received a report that may be a preliminary step to raising tariffs on auto imports. The autos index, a bellwether for Europe's economy, fell 0.65%, also pressured by data showing Chinese car sales fell 16% in January, their seventh straight month of decline, and the biggest one month drop in seven years.
Trump has 90 days to decide whether to act upon the recommendations.
"The optimism on trade has been strong, but the underlying economic data has been a lot of weaker - so you have some push and pull factors," said David Vickers, senior portfolio manager at Russell Investments, adding much focus was now on flash PMI data due out this week. "As the bounce-back from the December lows fades...the fundamentals now reassert (themselves)," Vickers added.
Earlier in the session, the "US-China trade hope" trade boosted Asian sentiment, lifting the MSCI All-Country World Index rose 0.3% to a two and a half month high, after Japan's Nikkei closed up 1.8% at its highest level of the year thanks to a weaker yen and MSCI's index of Asian equities rose almost 1%. China's Shanghai Composite soared 2.7% to its highest finish in more than four months...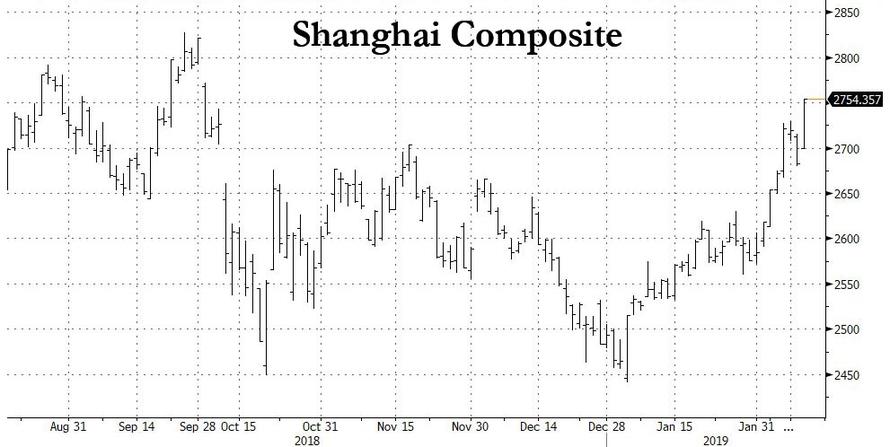 ... while the Chinext and Shenzhen Composite both surged by over 4% after China reported a Total Social Financing credit injection on Friday that was the same size as the GDP of Saudi Arabia, at just under $700 billion.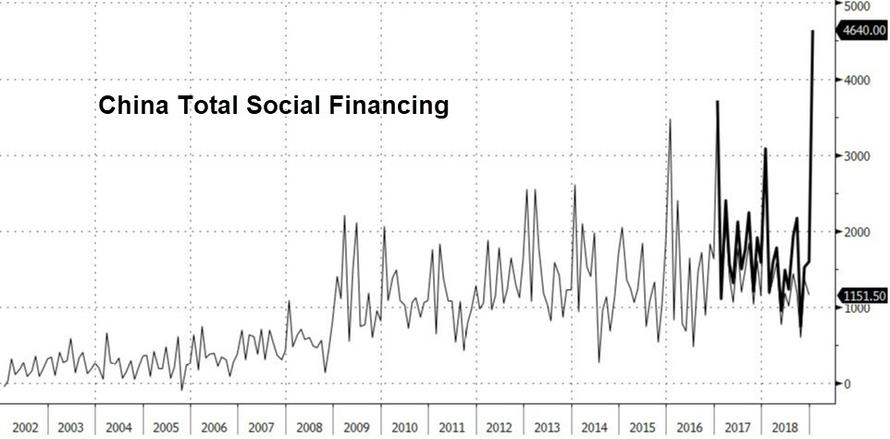 "The market has a view that there will be an extension or a deal along the way," Erik Nielsen, chief economist at UniCredit Group, told Bloomberg TV. Overall, "the Americans don't believe in multilateralism any more. So we are moving constantly towards a less-good scenario, and global trade is suffering."
U.S. equity-index futures drifted although were modestly in the green, suggesting that U.S. stocks would hold onto last week's gains when trading resumed on Tuesday. The Dow and the Nasdaq boasted their eighth consecutive week of "trader optimism" the world's two largest economies would hammer out an agreement resolving their protracted trade dispute.
In addition to trade, bullishness has been encouraged by a continued soft economic data which has fueled expectations that the world's most powerful central banks could deliver on reflationary policies and provide support for markets. The need for stimulus was highlighted by data showing a sharp slide in Singapore exports and a big drop in foreign orders for Japanese machinery goods.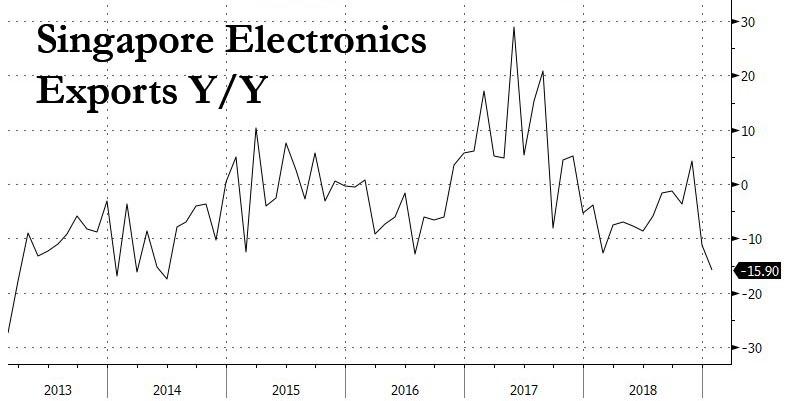 Meanwhile, trade negotiations - whose favorable outcome has already been pried in by the market - will resume this week, with U.S. President Donald Trump saying he may extend a March 1 deadline for a deal. Both sides reported progress at last week's talks in Beijing.
In rate, core European bonds were little changed across the curve, BTPs outperform, with 10-yr Italy/Germany spread 3bps tighter at 266bps. US Treasury cash markets are closed for the holiday.
In FX, the dollar was steady on the yen at 110.52, having backed away from a two-month top of 111.12. The yen slipped with the dollar, while the euro strengthened despite dovish comments from a European Central Bank governing council member. The pound strengthened after seven members of the U.K. Parliament said they'll stand as independents after quitting the main opposition Labour Party over issues including Brexit and antisemitism. Emerging-market assets climbed.
British Prime Minister Theresa May plans to speak to every EU leader and the European Commission chief to seek changes to her EU withdrawal agreement, after another defeat from her own lawmakers last week.
Commodities from oil to copper climbed, sending an index of commodities to the highest since December, with oil prices reaching their highest for the year, buoyed by OPEC-led supply cuts and U.S. sanctions on Iran and Venezuela.
Looking ahead, the latest Fed minutes are due on Wednesday and should provide more guidance on the likelihood of rate hikes this year. There is also talk the bank will keep a much larger balance sheet than previously planned.
"Given the range of speakers since the January meeting who support "patience," the Fed minutes should reiterate a dovish message overall," analysts at TD Securities said in a note.
Overnight News
The slowdown of the European economy is "significant" and the European Central Bank could change its interest-rates guidance if it becomes clear the situation isn't temporary, Governing Council member Francois Villeroy de Galhau said
Trump has received the findings of a probe into whether imported vehicles pose a national security threat, which could lead the U.S. to impose tariffs
Theresa May said she's planning to meet with European Commission President Jean-Claude Juncker and speak to the leader of every EU member state in the days ahead over Brexit
Iron ore futures extended gains amid uncertainty over production losses after the Vale SA dam disaster, even as inventory of Brazilian ore at China's ports surged to a record
Trump wanted the Russia investigation cited in the memo firing FBI Director James Comey and believed Russia's president over his own intelligence agencies about North Korea's missile capability, former Acting FBI Director Andrew McCabe said
The krona, the worst-performing major currency this year, faces volatility on Swedish inflation data Tuesday as markets may be underestimating the risk for a surprise
The Bank of Japan's offer to buy bonds due in more than 25 years drew the strongest response in over four years, with traders' willingness to part with the super-long securities signaling bets that the central bank will scale back purchases further