Toys R Us And Government Hurt Great Jobs Report
Great July Jobs Report Despite Consensus Miss
With the ADP report showing 219,000 jobs created and the BLS survey occurring during a week that had low jobless claims, I was anticipating job growth in the BLS report to beat expectations. Usually, the ADP report doesn't elicit a big stock market reaction, but since it had recently been pessimistic, its beat pushed stocks higher last Wednesday. These two indicators implied over 250,000 jobs could be created in July. That didn't happen as the report only showed 157,000 jobs were created which missed estimates for 190,000 jobs created. Even though this looks bad, the details show us that it was a great report.
There are two obvious details in the headline report. The first is that there were 170,000 private sector jobs added, which only missed estimates for 184,000. In other words, the consensus expected the government to add 6,000 jobs, but instead, it subtracted 13,000 jobs. Local governments lost the most jobs. It's possible the jobs were subtracted because school isn't in session in the summer, meaning teachers aren't working. As you can see, the 33,000 miss instantly becomes a 14,000 miss, which is very small.
These employment reports usually are very volatile and hard to predict, but lately, they have been consistent. As you can see from the chart below, the rolling 3-year standard deviation of the monthly payrolls report is near its lowest level since 1942. The standard deviation has been low for a few years. We had gotten used to discounting monthly reports like regional Fed reports which have excessive noise. Without the noise, the employment reports are becoming reliable indicators of the economy. To be clear, I follow every report, but I would discount one if it was wildly inconsistent with the trend.
(Click on image to enlarge)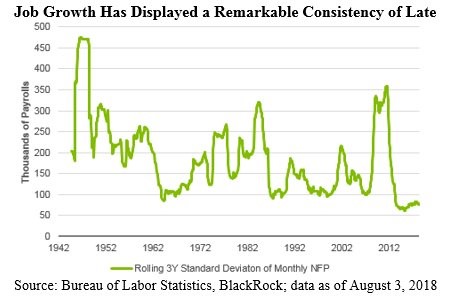 The second reason this was a good report is because the May and June jobs reports were revised to show an additional 59,000 jobs were added. It's easy to just focus on the last report because it's the most recent one. However, you need to look at all three holistically. The older reports are more reliable than the newest one. The June report was revised up from 213,000 to 248,000 and the May report was revised up from 244,000 to 268,000 jobs. These are spectacular reports. If you are worried about hitting full employment, you might fear they are too good. Adding 258,000 jobs per month will get the labor market to full employment quickly even if all the workers on the sidelines start looking for work again.
Disclaimer: Neither TheoTrade or any of its officers, directors, employees, other personnel, representatives, agents or independent contractors is, in such capacities, a licensed financial ...
more