Timing The Tantrum: The Market Implications Of A Big Treasury Sell-Off
Written by Chris Turner, James Knightley, Padhraic Garvey, Antoine Bouvet, Jeroen van den Broek, Timothy Rahill, Warren Patterson, Petr Krpata, Trieu Pham and Egor Fedorov
Growing confidence in the global recovery, especially in the US, is leading to speculation over when the Fed might take its foot off the accelerator and buy fewer Treasuries and Agencies. Increasingly, parallels are being drawn to similar events in 2013. In this Q&A we look at when such a sharp bond sell-off might occur and its cross-market implications.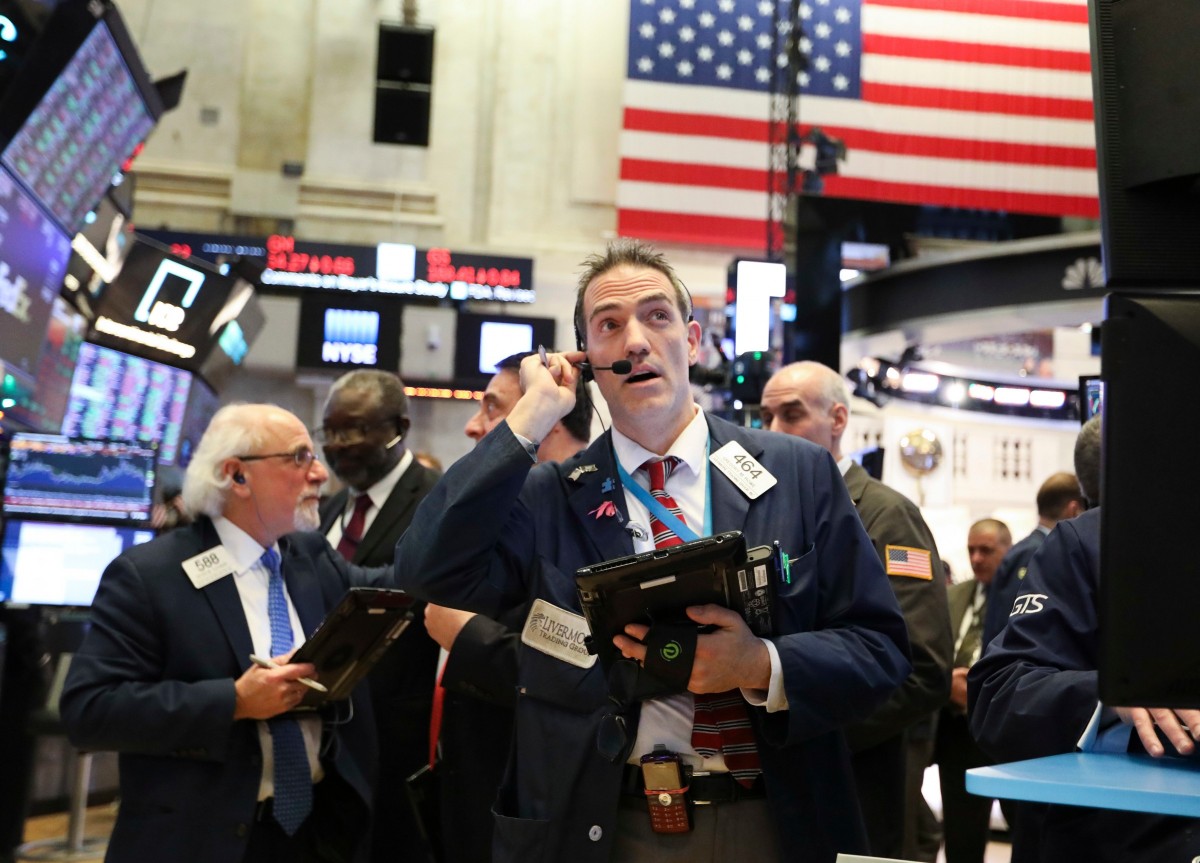 Memories of 2013
Investors are increasingly confident of a 'V' shape global recovery, so much so that the emerging concern is not growth, but inflation. This has seen the long end of bond markets come under pressure, refreshing memories of 2013. This was the year the Fed exacerbated the bond market sell-off by discussing the reduction or 'tapering' of its US Treasury debt purchases.
At the time, a sharp rise in US yields rippled through asset classes around the world, hitting equities and commodities (two heavily backed markets in 2021), widening credit spreads, and lifting the dollar.
So, we thought it would be useful to look at just when the Fed might be forced to discuss tapering this year, the likelihood of a tantrum in the US Treasury markets, and how asset markets would react were such a tantrum - let's call it a quick 50bp rise in US 10 year Treasury yields - to be seen.
Cross-market reaction: How asset markets performed during the 2013 taper tantrum
(Click on image to enlarge)

ING, Refinitiv
When could the Fed start to communicate a taper?
At tomorrow's testimony to Congress, Jerome Powell will again insist that the Fed are not contemplating any imminent shift in their policy and stick with the "guidance" that they will continue to buy $80bn of Treasuries and $40bn of MBS per month "until substantial further progress has been made toward the Committee's maximum employment and price stability goals".
But what is "substantial further progress"?
It will probably be at the point where we have a clear view that herd immunity is being reached, a re-opening is happening and price pressures are becoming apparent. All three could happen in the mid to late second quarter.
On vaccination & herd immunity: President Biden's Chief Medical Advisor, Anthony Fauci, suggests he thinks herd immunity is 85%-90% of Americans being vaccinated. At the current run rate of 1.6 million doses a day that puts us at herd immunity in mid-January 2022. However, more money and better management mean Biden is targeting a speedier program. There is no reason to think the US can't quickly hit 3-million (1% of its population a day) and if it can do that we get herd immunity in the States by July 2021. And should the Johnson and Johnson vaccine be approved, which only requires one dose, this would bring it forward into the second quarter.
On re-opening: It is neither Fauci nor Biden's call but individual state governors. For them, the electoral cycle may mean reopening before herd immunity is reached. Think 'jobs, jobs, jobs', especially if hospitalisation numbers have fallen away dramatically as we hope they should over the next two to four months.
On the economic bounce-back: Household savings levels have increased $2.4tn since 3Q 2019 – that is just money in the form of cash, checking, and savings accounts – while credit card balances are at 4-year lows. Wealth gains are also felt more evenly across the income spectrum than in Europe given the stimulus cheques while expanded and uprated unemployment benefits have seen a majority of lower-income households gain income relative to before the pandemic.
Contributions to changes in US personal income levels versus Feb 2020 (annualised $trn)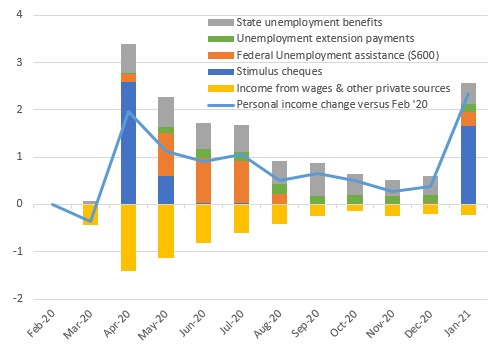 Macrobond, ING
Throw in another $1.9tn fiscal stimulus, a wave of corporate CAPEX, and a housing construction boom and you have the recipe for very strong economic activity as soon as the doors are unlocked – hence our 5.5% GDP forecast for this year risks being on the low side.
On inflation: Even if we get just "benign" or "typical" 0.2%MoM readings through the rest of the year, headline inflation will rise to 3.1% by May. With rising freight costs, fuel costs, commodity prices, and unit labour costs this could be even higher, possibly in a 3.5-4% range. The key question is how sustainable inflation will be? Ordinarily, we would look at wages as the US is a service sector and labour costs are the biggest input. But with nearly ten million fewer people in jobs than a year ago, there is unlikely to be much wage pressure in the near-term. That said, vigorous demand coming up against supply constraints within many industries (bars and restaurants having gone out of business, airlines mothballing aircraft, a lack of upkeep in entertainment venues and hotels etc) could boost corporate pricing power and make inflation sticky.
On the Fed: By the third quarter we could see real pressure on the US Federal Reserve to justify what it's doing. 3.5% inflation, booming growth and a waning pandemic would, one would think, be compatible with "substantial further progress" – progress implies a journey, rather than an end result. Consequently, we think the Fed will taper purchases in the fourth quarter, with some shift in communication presumably coming 2Q or early 3Q.
This suggests the June 16th FOMC meeting, where a new round of forecasts will be presented, could be the first time the Fed feels serious pressure to take its foot off the accelerator.
Disclaimer: This publication has been prepared by ING solely for information purposes irrespective of a particular user's means, financial situation or investment objectives. The information does ...
more