TIC For September: Not Repo But 'Further Flaws'
What we see from TIC as well as DXY is how there wasn't really all that much separating Euro$ #3 from Euro$ #4. The financial media jumped all over "globally synchronized growth" when in eurodollar terms it was so shallow it barely qualified as a minimum interim. The very definition of a molehill where it counted most.
In that way, it matches how China's economy has evolved going back to around 2013 and 2014; also very little of Reflation #3 in any of its statistics. The two things go together, hand in glove.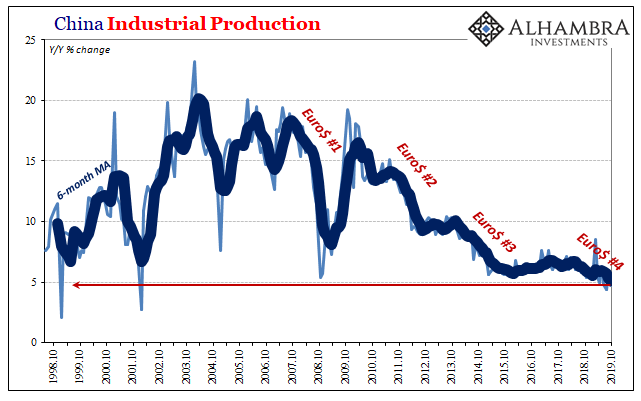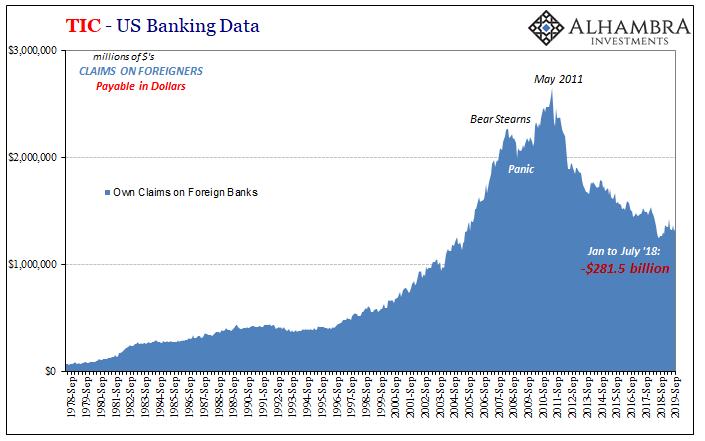 The second eurodollar squeeze was it; the 2011 eruption ended all hopes for the global recovery. It took several years, but the lack of really visible global reflation during Reflation #2 following it showed that even China and the emerging market economies once believed invulnerable even in the immediate aftermath of 2008 (Euro$ #1) actually weren't.
This left open the possibility for the next outbreak to rewrite everything, to permanently redraw global conceptions about risks. Euro$ #3 did that, as you can see very clearly in the TIC bank data and where/how it complements DXY. Without China and the EM's more broadly, where is there any relatively sheltered opportunity left in the world?
It is a question whose answer both demonstrates the real gravity behind globally synchronized growth, it was sorely needed, at the same time exposing it as little more than a bumper sticker slogan.
It becomes self-fulfilling from there: more risk, fewer dollars, less economy, more risk. Rinse. Repeat. As is happening right now.
Those are the "further flaws" and weaknesses that were exposed during an otherwise unremarkable middle of September week. And the TIC data for September gives us more confirmation for each of those things.
Disclosure: This material has been distributed for informational purposes only. It is the opinion of the author and should not be considered as investment advice or a recommendation of any ...
more