This Week The Eyes Of The Market Will Be On The United States And The ECB Meeting
This week begins with the Martin Luther King, Jr. Day holiday in the United States, US stock markets will be closed, therefore we will not have the ability to analyze the US markets. However, next Wednesday, January 20, the inauguration of Joe Biden as is eagerly anticipated to be a major market mover.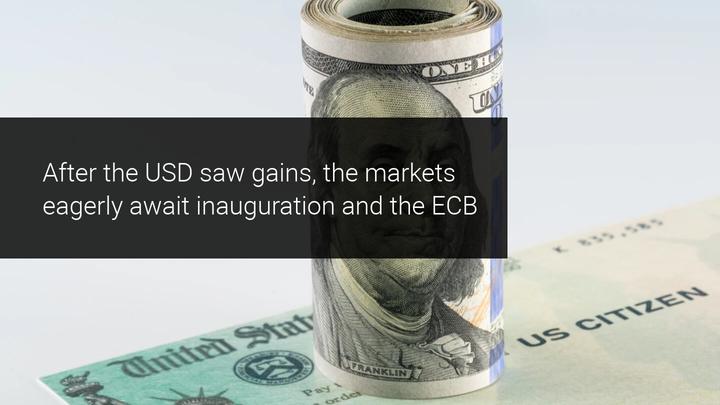 Last week, Joe Biden unveiled his stimulus aid program, which raised some doubts among investors despite the fact that it fulfilled what was expected by the market consensus by reaching a total amount of aid of around 1.9 trillion dollars. One day before the president is sworn in, the US Senate will give the green light to former Federal Reserve President Janet Yellen as Secretary of the United States Treasury, which is why she is expected to support and defend the program presented by the new president due to the current low rate situation.
For its part, the ECB will hold its first meeting in 2021 on Thursday, so we will have to see if this body decides to take a further step in its measures due to the current situation of the pandemic since it is still out of control in Europe and is seriously affecting the economy.
EURUSD Technical Analysis
Despite last week's performance, where the dollar continued to recover ground against the EUR, the general sentiment continues to be weak towards the main currencies. If we look at the dollar index, it is still at levels close to its critical level of support, although in recent days it seems to have relaxed volatility. Last week, FED chairman Powell rejected the idea of ​​reducing the bond-buying program and carrying out a rate hike in the short term.
Technically speaking, the EURUSD last week was of consolidation, breaking down the 23.6% Fibonacci retracement level of the last bullish momentum, although the uptrend is still strong, so we can't dismiss that the EURUSD can perform yet. more corrections in the next few days, but as long as it does not break down both the 1.20 level and its previous resistance level (green), the sentiment will continue to be bullish, reaching levels close to 1.25.
Disclaimer: The given data provides additional information regarding all analysis, estimates, prognosis, forecasts or other similar assessments or information (hereinafter "Analysis") ...
more