This One Chart Says U.S. Dollar Getting Ready To Plunge
Technical Analysis Making a Strong Case for Much Lower U.S. Dollar
The U.S. dollar could drop a lot, and if does, investors can expect a lot of problems.
Why have such a bearish outlook on the greenback? Charts are painting a significantly grim outlook for the dollar.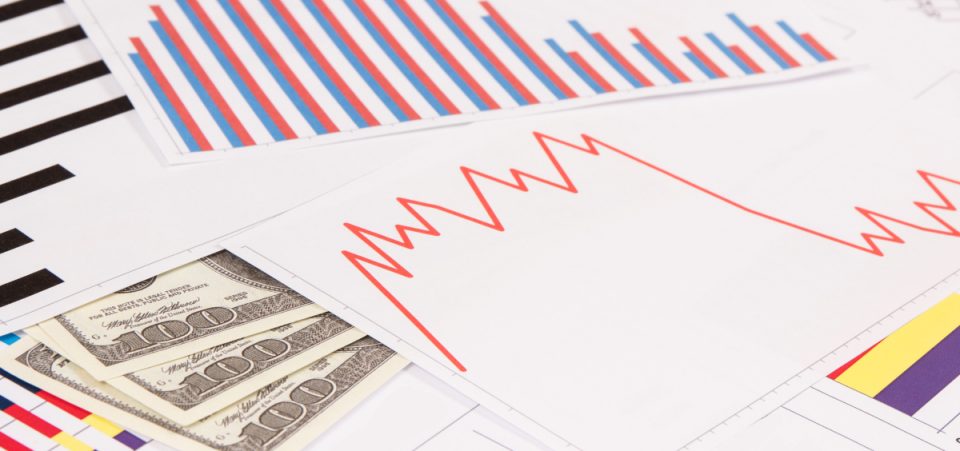 Look at the chart below. It plots the U.S. dollar index over the past decade or so. The index essentially tracks the performance of the U.S. dollar relative to other major currencies. So, if the index drops, it indicates that the greenback is losing strength and other currencies are increasing in value.
Notice something on the chart?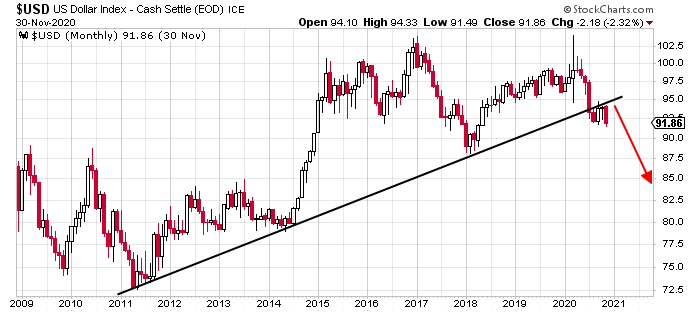 Chart courtesy of StockCharts.com
Technical analysts have a rule they live by: The trend is your friend until it ends.
Since 2011, the U.S. dollar was trending higher. The index tracking the dollar increased from about 73.00 in 2011 to 102.50 early 2020. This represents an increase of 40% over the course of about nine years.
However, thanks to the Federal Reserve printing money at record speed, and the U.S. government spending money hand-over-fist to get out of the pandemic-induced economic slowdown, investors seem to be losing trust in the greenback.
In August, the trend that was in place since 2011 was broken. Over the past few months, the U.S. dollar index has tried to go higher but has failed every single time.
This is very troubling and shouldn't be taken lightly. When a major trend breaks, the move in the opposite direction is usually rigorous.
How Low Could the U.S. Dollar Go?
If one were to consider the charts and nothing else, usually when a price breaks below a major trend (as the U.S. dollar as done), it will drop to the closest major support level.
Looking at the U.S. dollar index, the next major support level isn't until 87.50. Below that, the next big support level is around 80.00. If the dollar drops below this big support level, it wouldn't be shocking to see the greenback hit its 2011 lows. This would be a decline of 20% from its current level.
Disclaimer: There is no magic formula to getting rich. Success in investment vehicles with the best prospects for price appreciation can only be achieved through proper and rigorous research and ...
more