This Is Not The Inflation You Are Looking For, Move Along
"This is not the inflation you are looking for. Move along."
In recent weeks a veritable cottage industry of financial experts has cropped up, seeking to defuse ever louder fears that the burst in inflation observed in the past month is "transitory" and won't impact the Fed's medium-term thinking or its timeline for tapering/liftoff (not least of all due to the growing political blowback against soaring inflation as captured in "Biden Aides See Political, Not Economic, Peril in Inflation Data" and "Inflation fears grow for White House"). The latest to hammer the "transitory" point is Goldman economist David Mericle who has doubled down on the bank's sanguine view on inflation, writing in a Sunday note that the data surprises of the past two weeks "have left our Q1 2022 forecast for the start of QE tapering unchanged" adding that "if our taper timeline is right, then liftoff will probably not be on the table for about two years." This is because the bank's economists believe that that the inflation risks that matter most for the Fed's rate hike decisions are not those that have emerged in the past few weeks, but rather those "that will remain relevant at a multiyear horizon."
So what are those multiyear horizon inflationary risks? Let's dig in.
First, we start with Goldman concession that inflation is indeed running amok:
The last ten days produced a flurry of startling data surprises that added fuel to inflation fears: a 0.7% increase in average hourly earnings in April and even larger gains in low-wage industries, the largest increase in core CPI in 40 years, and a 0.4pp jump in the University of Michigan's measure of long-term household inflation expectations to the highest level in a decade
That said, when looking at last week's show-stopping CPI print, which Goldman admits was "a huge upside surprise" it is one of little lasting significance according to the Goldman and here's why. As shown in the next chart which decomposes the largest increase in the core since 1981 by category, the main contributors fall into two groups:
travel and related services categories where prices are experiencing quick reopening rebounds from deeply depressed levels, and
goods categories like used cars where a pandemic-induced demand surge has run headfirst into temporary shortages, production bottlenecks, and supply chain disruptions. In contrast, other large core service categories remained soft in April.
While these forces might also generate high inflation prints in coming months - as the full normalization of prices in pandemic-depressed categories like airfares as reopening progresses would add another 30bps to core CPI and 15bps to core PCE, while supply chain disruptions including the semiconductor shortage also remain severe, as shown in the next chart and their impact on goods prices has probably not yet run its course...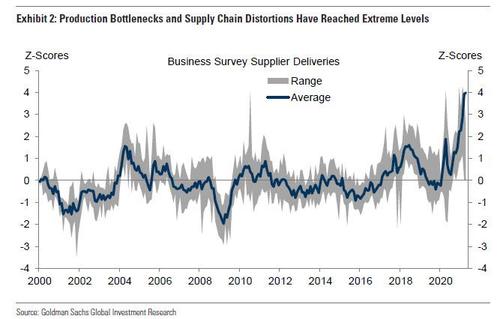 ... Goldman again trots the familiar party line that "these disruptions and shortages look unlikely to boost inflation on net beyond this year".
Disclosure: Copyright ©2009-2021 ZeroHedge.com/ABC Media, LTD; All Rights Reserved. Zero Hedge is intended for Mature Audiences. Familiarize yourself with our legal and use policies ...
more