The Scott McCreery, "In-Between" Stock Market (And Sentiment Results)
The song we chose this week – to embody the sentiment of the stock market – is Country Star Scott McCreery's song, "In-Between."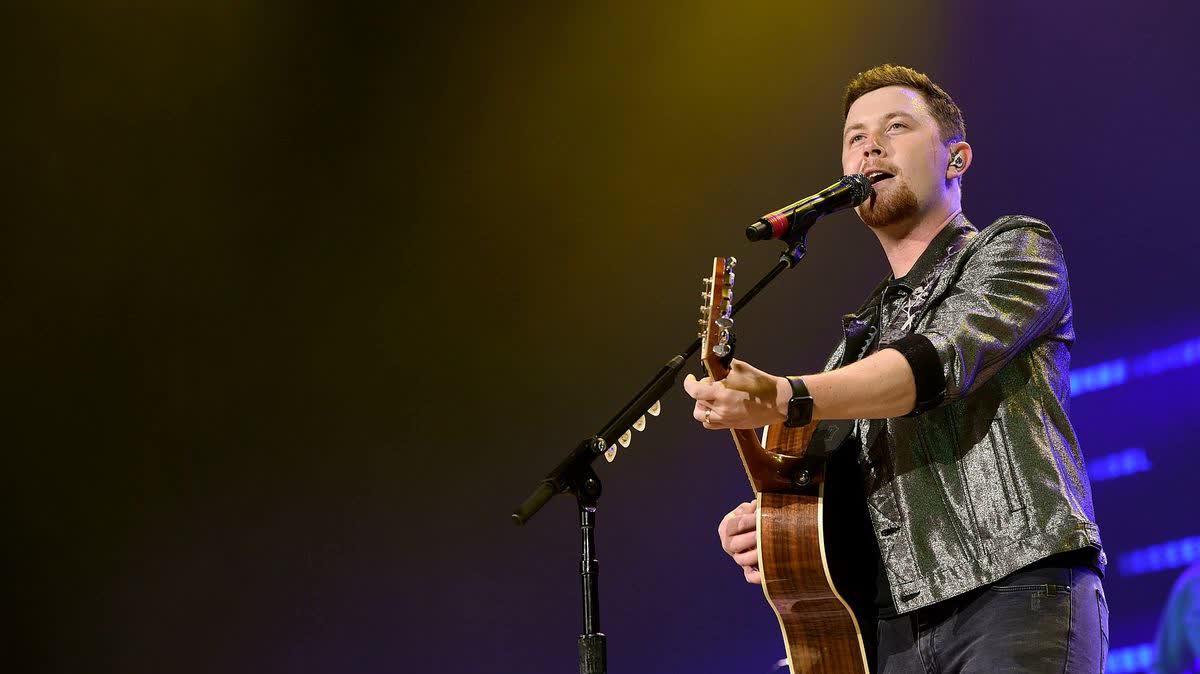 The lyrics that speak to the recent change we are seeing – as sectors like Tech (Growth) and Healthcare take a breather – and other sectors like Financials and Industrials (Value/Cyclicals) catch a bid (to pick up some of the slack) are:
Ain't too high isn't too low just holding down the middleI'm steady as I go…
A couple of weeks ago, we laid out the case for the "Most Loved" stock in the S&P 500 (AAPL) being overvalued, and the most hated stock in the S&P 500 (WFC) being undervalued. You can review it here:
The Stevie Wonder, "Faith" Stock Market (and Sentiment Results)…
Right after that note, the tide shifted abruptly. Here is a ratio chart of the performance of WFC:AAPL since:
(Click on image to enlarge)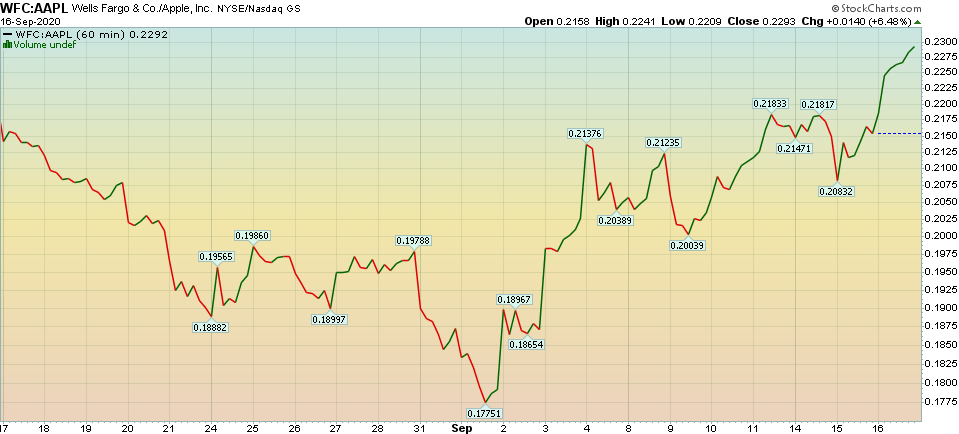 To address the skeptics of my thesis, in the note I said, "I can hear it now, 'Wells Fargo will begin to outperform Apple on a relative basis – WHEN PIGS FLY…'" Yesterday I tweeted the following – to represent the persistence of this new trend: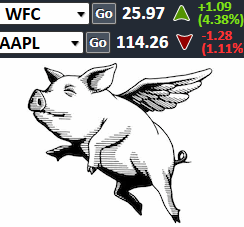 On Tuesday, I was on Fox Business (The Claman Countdown) with Liz Claman. Thanks to Ellie Terrett for inviting me on the show. The question posed to me was whether it made sense to buy Tech, or look elsewhere. I addressed a number of findings from the Bank of America Global Fund Manager Survey (that was published on Tuesday morning) and listed the financials we preferred over tech. View it here.
On Monday, I was on Cheddar TV with Brad Smith. Thanks to Francesca Conti for inviting me on the show. I talked about the imminent vaccine as a catalyst for the rotation into cyclicals, and went into granular detail about one key factor in our Banks thesis – CECL. CECL – which stands for "Current Expected Credit Loss" is an accounting change that went into effect in Q2 2020 – which made the banks' results look much worse than they actually were/are. Watch this segment to learn the specifics.
The key takeaway is that the "Big 4" banks reported ~$5B in pre-tax income for Q2 2020 versus ~$34B in 2019. That looks BAD, and that's one of the key reasons banks were pummeled in Q2.
HOWEVER, if you take away the "paper change" of CECL and compare APPLES to APPLES with the 2019 standards, the "Big 4" actually reported $28B in Q2 2020 (a year on year decline of $6B NOT $29B). Not bad considering we shut down the world for several months.
Disclaimer: Not investment advice. For educational purposes only: Learn more at HedgeFundTips.com.