from the St Louis Fed
-- this post authored by Michael T. Owyang, Assistant Vice President, and Hannah G. Shell, Senior Research Associate
Technological advances that allow oil producers to extract crude oil from shale rock formations have reshaped the landscape of U.S. oil production over the last 10 years. Since 2008, shale oil production has increased from around 450,000 barrels per day (bpd) to over 5 million bpd and now accounts for more than half of total U.S. crude oil production.
This increase in production is unmatched on a global scale: In 2017, the U.S. became the largest oil-producing country with an average of 14.6 million barrels per day of crude oil, petroleum, and biofuels, 2 million barrels per day more than Saudi Arabia.
Shale oil production is different from traditional production in two key ways:
Multiple wells can be drilled from one platform.
It appears that shale oil production responds differently to changes in oil prices compared with traditional wells.
The figure shows both the spot price of oil (as measured by West Texas Intermediate at Cushing, Okla.) and the U.S. production of oil broken down by shale and conventional production.
(Click on image to enlarge)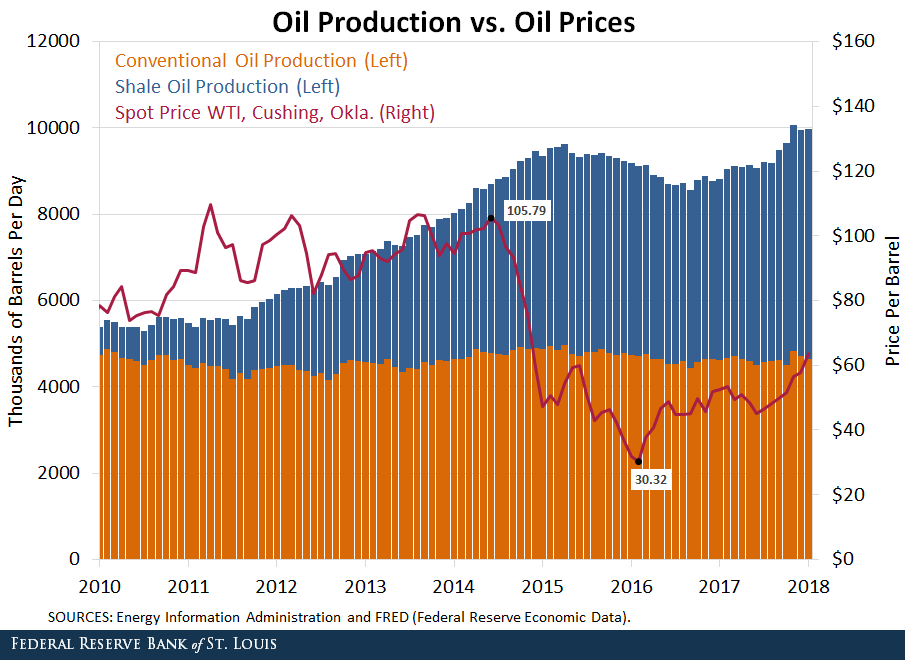 Between June 2014 and February 2016, the price of WTI oil dropped from $105.79 to $30.32 (red line). At the time, the belief was that the precipitous drop in prices would lead oil-producing firms in the U.S. to cut back production in shale oil fields.
Oil Production
During the period, total oil production in the U.S. dropped from about 9.6 million bpd to about 8.6 million bpd (sum of blue and orange bars). Production has subsequently has recovered to about 10 million bpd - in part because of a strengthening global economy. However, one might ask how a sustained decline in oil prices would affect U.S. oil production that has become increasingly reliant on extraction from unconventional oil fields.
It turns out that extracting crude oil from unconventional wells is a significantly different operation than extracting from a conventional well. One can think of the oil extraction process as four steps from in-the-ground to market: