The Recent Rise In Health Care Inflation
One-time policy changes
In addition to Medicare payment cuts in the ACA, there were three large shocks to the market that likely contributed to the exceptionally low levels of health care services inflation seen from 2014 to 2016.[4] Unlike the cuts to Medicare provider price updates, which reduce the growth of prices each year, these can all broadly be seen as one-time shocks to health care service prices, which would have initially held down year-over-year price increases, but then would have rolled off and allowed health care inflation to rebound.
First, the Budget Control Act of 2011 contained a package of automatic spending cuts, which was triggered when the U.S. Congress Joint Select Committee on Deficit Reduction failed to reach a bipartisan agreement to cut spending. As a result, the act required automatic reductions in federal spending ("sequestration"), which for Medicare took the form of an across-the-board cut of 2% to Medicare payments. The cuts went into effect in April 2013 and applied to Medicare payments to both hospitals and doctors. As shown in figure 1, there is a sharp drop in health care inflation that lines up with this cut to Medicare payments, and this has been attributed to the Medicare sequestration cuts.[5]
Unlike the Medicare payment cuts included in the Affordable Care Act, however, the sequestration cuts were a one-time payment reduction, with no further effect on the growth of Medicare payment rates. While previous work has documented that changes in Medicare prices spill over into the private sector over a period of several years, the effect is front-loaded and decreases sharply after the initial year.6 Thus, most of the effect of sequestration cuts on health care services inflation should have rolled off in 2014.
Second, the Medicaid expansion under the Affordable Care Act went into effect in 2014 and resulted in a dramatic increase in Medicaid enrollment. Medicaid payments are lower and grow more slowly than payments from other payers. Therefore, the ACA expansion shifted the composition of payments downward in states that expanded Medicaid. State-level uptake of the Medicaid expansion was particularly brisk starting in 2014 but has slowed over time. Currently, 36 states and Washington, DC, have adopted the expansion. Of these expansions, 27 became effective in 2014, three became effective in 2015, two became effective in 2016, one is currently enrolling people for coverage effective in 2019, and four have been approved by ballot initiative but are not yet effective.
Third, in January 2015, the Medicaid primary care rate increase expired. The primary care rate increase was a provision of the Affordable Care Act that required states to increase their Medicaid payments to doctors to match Medicare levels for primary care services. The rate increase was effective in 2013 and 2014, but efforts to make the payment increase permanent failed, and in 2015 most states returned to the much lower payment rates previously in effect. Figure 3 shows the large impact of both the adoption and expiration of the primary care rate increase; in many states, payments to doctors for primary care services initially doubled in 2013 and then halved in 2015.
3. Medicaid primary care payments to doctors decrease sharply in 2015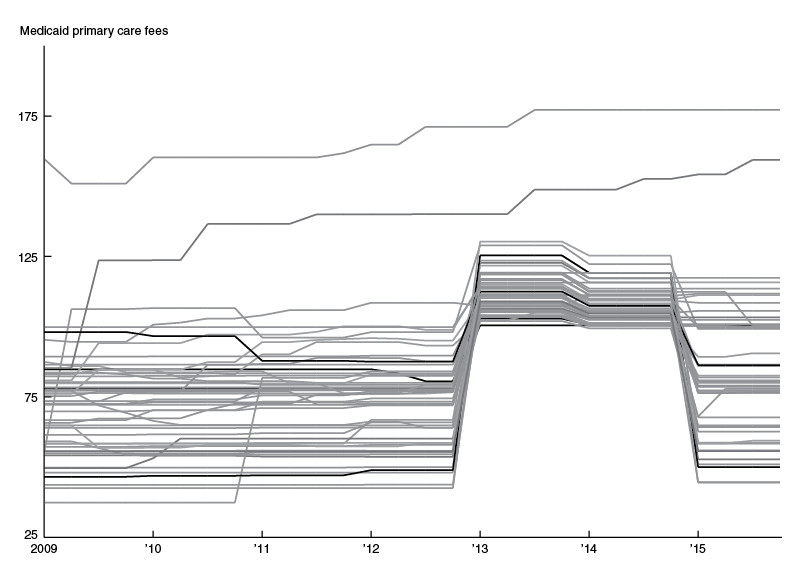 Note: Each line represents one state's Medicaid payment rate to doctors for primary care services.
Source: Diane Alexander and Molly Schnell, 2018, "Closing the gap: The impact of the Medicaid primary care rate increase on access and health," Federal Reserve Bank of Chicago, working paper, No. 2017-10, revised April 21, 2018, available online.
While the effect of the primary care rate increase appears to have been offset by the sequestration cuts, the sharp reduction in Medicaid payments to primary care doctors in 2015 lines up with the lowest period of health care services inflation in figure 1.
Conclusion
Each of the three policy changes discussed here could be expected to temporarily decrease health care inflation, and the fact that they partially overlapped may explain the exceptionally low levels of inflation seen in 2015. In January 2016, when the effect of the fee boost expiration rolls off and health care service prices are not hit by any more large policy changes, we see a turning point in health care services inflation. However, while the effects of these policies have rolled off, the legislated cuts to Medicare hospital payment updates contained in the Affordable Care Act mostly remain. Thus, the rebound in health care inflation back to the initial level seen after the implementation of the Affordable Care Act may signal a return to a post-ACA "new normal" for health care services inflation.
Disclaimer: Opinions expressed in this article are those of the author(s) and do not necessarily reflect the views of the Federal Reserve Bank of Chicago or the Federal Reserve System.
No ...
more