The Recent Rise In Health Care Inflation
from the Chicago Fed
-- this post authored by by Diane Alexander, economist
Health care services inflation was consistently at or above 3% per year in the early 2000s, declined from around 3% at the end of the 2000s to under 1% in 2015, and then rebounded to just under 2% in early 2018. The low point in 2015 was a near-historical low, with health care services price growth bottoming out at a rate not seen since 1961.
Initially, the low numbers in late 2014 through early 2016 were seen as a cause for concern; inflation was coming in below target, and health care services get a relatively large weight in the Price Index for Personal Consumption Expenditures (PCE) used to calculate inflation.[1] Forecasters and policymakers saw low health care services price growth as a drag on overall inflation numbers.
Since 2015, however, health care inflation has been steadily increasing - going from 0.55% to 1.83% over the past three years (see figure 1). Like the earlier decline, this recent increase in health care services inflation has also caught the attention of reporters and policymakers. Yet while recent attention has focused on the rise in health care price growth, I argue that what was unusual was the very low levels seen from 2014 to 2016. While overall health care services inflation has clearly ticked back up, its level remains somewhat low by historical standards.
1. Health care services inflation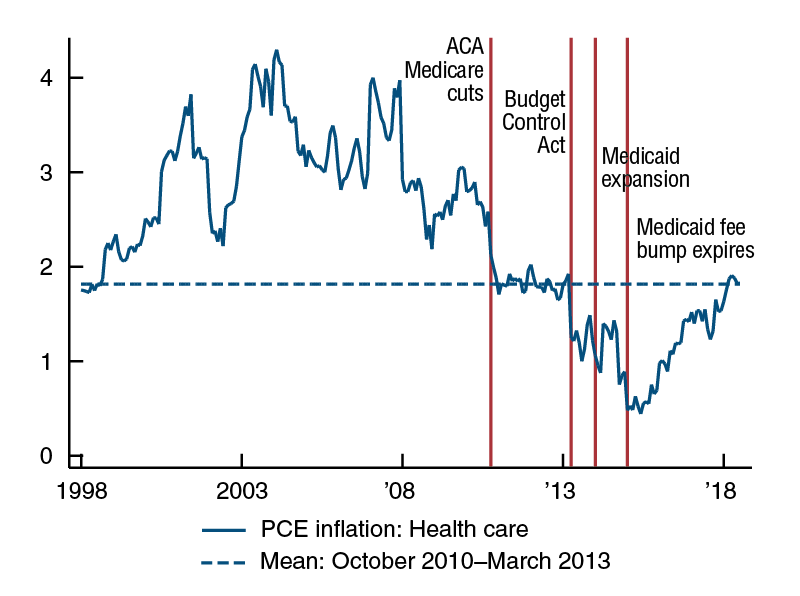 Notes: Health care services price index, 12-month change. The dashed line is the average inflation in health care service prices during the initial post-Affordable Care Act (ACA) period from October 2010 to March 2013. ACA Medicare cuts came into effect at the start of fiscal year 2011. The Budget Control Act of 2011 cuts came into effect in April 2013; the Medicaid expansion came into effect in January 2014; the Medicaid fee bump expired in January 2015.
Sources: U.S. Bureau of Economic Analysis data accessed via Haver Analytics and author's calculations.
In order to predict whether the recent increase will be temporary, permanent, or will signal the start of a longer-term trend, we need to understand what factors play a role in the evolution of this price series. In health care, where many prices are determined administratively by Medicare and state-level Medicaid programs, a series of large policy changes over the past decade have affected health care service prices. These policy changes can be broadly divided into two groups: policies that put long-term downward pressure on health care service prices, and policies that are best understood as temporary shocks to inflation. The patterns of these long- and short-term shocks combine to explain the very low levels of health care service price growth seen from 2014 to 2016 and suggest that the recent increase likely reflects a return to more-normal levels rather than a return to the high levels of the early 2000s.
In this Chicago Fed Letter, I discuss the role and scope of policy in determining health care prices and then particular policies that have affected the evolution of health care service prices over the past decade.
How are health care service prices determined?
The Price Index for Personal Consumption Expenditures measures the prices of goods and services consumed by U.S. households. Health care services included in the PCE deflator are services purchased out of pocket by consumers, as well as those services paid for by third parties on behalf of consumers - e.g., services paid for by employers through employer-provided health insurance or by governments through Medicare and Medicaid. The health care services component includes outpatient services (physician and dental services, home health care, and laboratory services), as well as services provided in hospitals and nursing homes.
What do health care prices mean in the context of the health care services component of the PCE deflator? Here, there are effectively two components. The first, and smaller component, is health care purchased directly by households. For example, if an uninsured person visits a retail clinic, the recorded price would be whatever he or she pays directly to the clinic. However, just 12% of expenditures on health care for Americans are out of pocket (Medical Expenditure Panel Survey, 2014).[2] The second, and much larger, component of health care services in the PCE is purchased on behalf of households by insurers. When an individual with insurance visits a health care provider, the "price" is what is paid by the insurer (Medicare, Medicaid, or a private insurer) to the provider.
Disclaimer: Opinions expressed in this article are those of the author(s) and do not necessarily reflect the views of the Federal Reserve Bank of Chicago or the Federal Reserve System.
No ...
more