The Most Important Gold Fundamental Right Now
There are seven inputs to our Gold True Fundamentals Model (GTFM), one of which is an indicator of US credit spreads (a credit spread is a difference between the yield on a relatively high-risk bond and the yield on a relatively low-risk bond of the same duration). If we had to pick just one fundamental to focus on at the moment, it would be credit spreads.
The average credit spread is not the only indicator of economic confidence, but it is the most reliable. When economic confidence is high or in a rising trend, credit spreads will be narrow or in a narrowing trend. And when economic confidence is low or in a declining trend, credit spreads will be wide or in a widening trend. As a consequence, over the past 25 years there was a pronounced rise in US credit spreads prior to the start of 1) every period of substantial weakness in the US economy, 2) every substantial stock market decline, and 3) every substantial gold rally.
The following chart shows a proxy for the average US credit spread. Notice that credit spreads have been in a strong narrowing trend (reflecting rising economic confidence) over the past 12 months and are now almost as low/narrow as they ever get. This implies that economic confidence won't get much higher than it is right now. It also implies that anyone who over the past several months has been betting on a large stock market decline or a large rally in the gold price has been betting against both logic and history.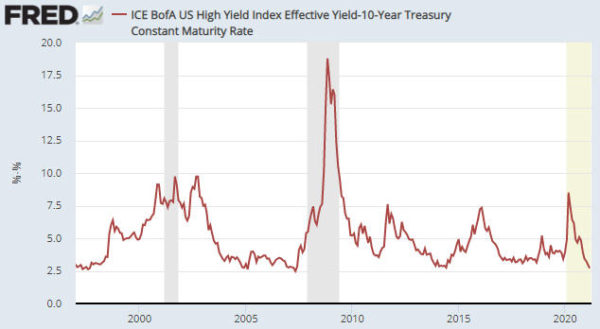 As mentioned above, economic confidence is probably about as high as it is going to get. This implies that the next big move will be a decline, but be aware that confidence sometimes will stay at a high level for more than a year. For example, the above chart shows that credit spreads languished at a very low level (meaning: confidence hovered at a very high level) from February-2017 to September-2018.
We doubt that confidence will hover at a high level for a longer period this time around. Instead, we expect that there will be an economic confidence reversal within the next few months. However, there is no need to forecast the reversal, because credit spreads should provide us with a timely warning.
This article is an excerpt from a TSI commentary published within the past fortnight.