The Most Crowded Trade + Consumer Expectations Signal Recession
Usually, investors like to fade sentiment surveys because when the crowd is leaning in one direction, the pain trade is a reversal. The huge long position in oil this year eventually led to a 40% decline in WTI from the October high. The highly positive equity sentiment in January 2018 led to a correction. On the contrary, the Merrill Lynch fund managers' survey has a great track record of predicting results.
As you can see from the chart below, the long FAANG trade was considered the most crowded trade in the summer and fall of this year.
(Click on image to enlarge)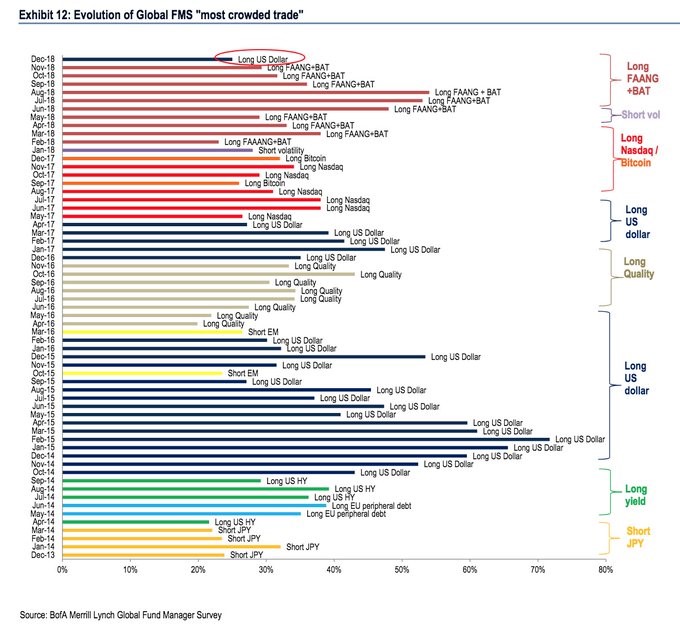 Source: Merrill Lynch
Each stock in that grouping has subsequently fallen over 20% from its high. This survey named short volatility and long bitcoin as the most crowded trades before they reversed as well. Now the most crowded trade is long the U.S. dollar. It didn't garner a huge percentage like long FAANG did earlier this year, but it's still noteworthy. Two potential catalysts for a weak dollar could be the Fed ending its rate hikes and U.S. economic growth slowing.
Global Economic Weakness, But No Recession?
The December survey on the global economy is curious. As you can see from the top chart below, only about 10% of respondents think there will be a global economic recession in 2019.
(Click on image to enlarge)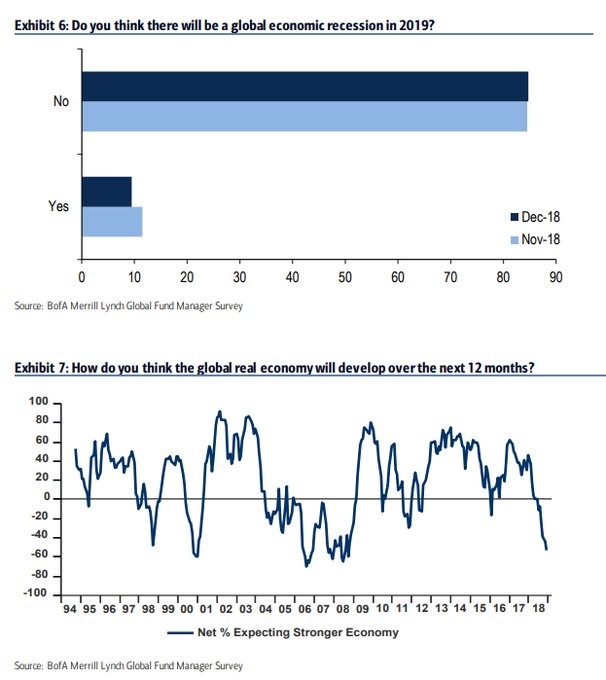 Source: Merrill Lynch
On the other hand, the bottom chart above shows the lowest net percentage of fund managers since 2008 think real global growth will improve in the next 12 months. These two charts don't necessarily contradict each other because growth can slow without a recession.
That being said, we think it makes more sense to trust the bottom chart than the top one. It is very difficult to model recessions. Fund managers don't want to make that tough prediction. It's rare for so many fund managers to be bearish on future growth without a recession happening afterwards. On the other hand, if fewer fund managers expect growth to be stronger than when the survey was issued in 2008, that doesn't mean this global recession will be worse than that one. The final aspect to note is this survey was very weak in 2006, meaning it was a tad early. There could be a global recession in 2020 or 2021 if this signal is early again.
Disclaimer: Please familiarize yourself with our full disclaimer here.