The Great Jobs Reset
Note that in these four "service" occupations, BLS already expected either little growth or outright losses even before the pandemic, often due to automation. And in all cases, it thinks the pandemic will make it even worse. Ditto for restaurant and bar jobs. But BLS foresees the opposite in many technology and healthcare occupations. They think the pandemic will actually create long-term jobs in those categories.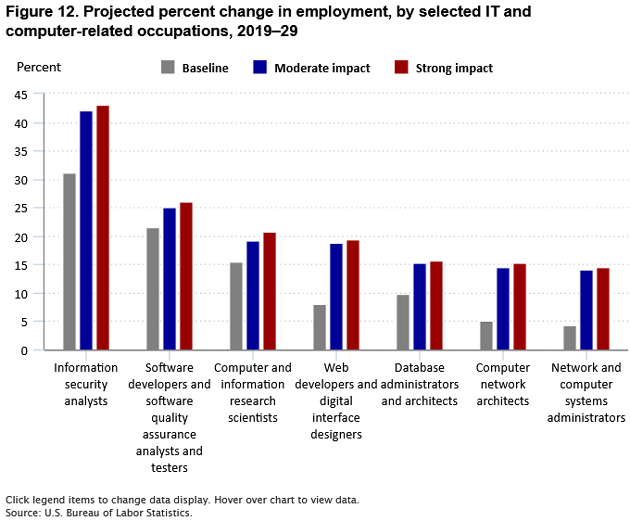 Source: BLS
These kind of tech jobs, already expected to show solid growth, should grow even more in the post-pandemic era, thinks BLS. Unfortunately, these growing occupations generally require more education than the shrinking ones. And in terms of raw numbers, there just aren't as many of them. That leaves a big problem: What will happen to workers in these disappearing occupations?
How many of us work at the same kind of jobs we studied for in school? How often have we changed careers? Twisted career paths are nothing new. If the path doesn't lead where you want, maybe it's time to blaze a new one. Millions will be doing so in the coming decade.
The Incentives of Unemployment
I served for several years on the board of a public company (Ashford, Inc.) which managed hotel REITs with 125 hotels, including the Ritz-Carlton in the Virgin Islands. Shane and I were married there and my fellow board members gave us a week as a wedding gift. A few years later (after hurricane Maria) I wanted to take Shane back. I learned the hotel was still closed. It having been some time, I asked why. I was told the company was making more on business interruption insurance that it would by actually operating the hotel. Magically, hotels all over the Caribbean generally opened up about the time the insurance ran out.
In December, Congress and President Trump agreed on an $800 billion pandemic relief bill. We are now contemplating another $1.9 trillion in "relief." Much of that money will be spent after this year and as late as 2029, but a good bit of it will hit in the second quarter. Some of it may actually incentivize unemployment.
As noted above, there are jobs available, but if you can get paid unemployment that is more or less equivalent (plus cash, plus child tax credits, and other benefits), your incentive to seek one of those jobs is lower. I would not for one second begrudge any jobless person the safety net of unemployment insurance. It is necessary. But it was meant as transition assistance while trying to find a new job, not a substitute.
In summary, the economy is recovering. Government transfer payments boosted personal income 10% in January, with spending up 2.4%. GDP is likely to be very strong for the first two quarters at least. The already-passed and soon-to-be-passed relief spending could be inflationary in a growing economy. (As an aside, surveys show that 37% of the $600 stimulus checks will end up in the stock market.)
Yet, millions of people are unemployed and many of them will have to make career changes. Transitions are never easy or swift. The Federal Reserve is committed to low rates and easy monetary policy at least until 2023, even with a growing economy. The markets want higher rates, but the Fed doesn't. This is the type of fight where both sides will lose, even if one appears to win. Jerome Powell's term as chair ends in February 2022. You can expect a more dovish chair (likely Lael Brainard) will replace him.
Unemployment is going to be "stickier" than we would like to see, especially in a recovering economy for the reasons stated above. All of this is going to produce more market volatility. There are lots of places to employ your investment capital. I am bullish about some and bearish about others. I don't have to risk my capital in the midst of an economic bar fight. I can choose to go to another, more tranquil establishment.
You need to seek out absolute returns over passive relative returns. Fixed income ETFs and mutual funds offer very low yields and capital loss in times of rising interest rates. When we don't know what's going to happen, maybe find an alternative? There are many.
Disclaimer:The Mauldin Economics website, Yield Shark, Thoughts from the Frontline, Patrick Cox's Tech Digest, Outside the Box, Over My Shoulder, World Money Analyst, Street Freak, Just One ...
more