The Great Jobs Reset
First, people will gain confidence at different rates. It will be a gradual process, not a sudden "reopening" like Black Friday used to be. Second, many people will return with new attitudes. I would not assume mass events—concerts, sports, conventions—will regain their previous popularity in the short or medium term.
Third, probably most important, the pandemic brought innovations that affect how we work, and therefore the type and number of jobs the economy will support.
I'll use myself as an example. I was one of the planet's most frequent flyers, at least as measured by American Airlines. My business (at least I thought) required it and I actually enjoy it. I'm eager to fly again—but I won't do it anywhere near as often. In the last year I learned how to hold online video meetings, accomplishing in a few hours things that would have once required two full days just for travel time, costing thousands of dollars in airfare, hotels, and restaurant meals.
Sometimes that's what it takes, but as I learned, not as much as I thought. And I'm not the only one who learned this. The economy will need fewer flight attendants, hotel housekeepers, chefs, and so on. These occupations also account for a large part of the currently unemployed. Many, and perhaps most, will not be resuming that same kind of work.
By the way, business travel is different from pleasure\tourist travel. At some point, people are once again going to want to take vacations and weekend getaways. I think conventions will come back as they are efficient ways to see a lot of people in a short time. But not this year.
At the same time, demand is growing in some occupations. According to a recent WSJ report, jobs site Indeed.com is seeing above-average growth in postings for driving, warehousing, construction, and manufacturing jobs. These stem from two trends that predated the pandemic and were accelerated by it: a housing boom and e-commerce.
Our housing needs are changing, both in type and location, which creates new construction work. Concurrently, we are shopping online and having products delivered. This generates new warehouse and transportation jobs, even as it eliminates in-store salespeople.
The challenge is a mismatch between the kind of jobs that are available and the skills of those who need work. That's not new; it has always been the case as economies grow and change. Now it happens faster. Someone who was a barista in 2019 might be a good framing carpenter, but will need retraining. This takes time and the transition period is often difficult.
These are relatively short-term problems, though. The Decade of Disruption is just getting started, and we haven't fully grasped how the pandemic changed it.
Permanent Changes
I started with good news about virus fears receding this year. If that happens—and it's not guaranteed—it doesn't necessarily mean our economic challenges will recede at the same pace.
Back when all this started, George Friedman said the recession would turn into depression if it went on too long. The difference, in his view, is that a depression doesn't just suppress growth for a while; it permanently changes everyday life.
Has that happened yet? Maybe not, but we aren't yet through this. Even in the relatively optimistic scenario I now foresee, many small businesses are still months away from customers gaining enough confidence to return in significant numbers, even if the various health restrictions are lifted.
And beyond that, we just don't know what kind of permanent lifestyle changes will come out of this. I mentioned travel, and that's an obvious one. But I suspect other, less obvious changes are brewing. They will affect the employment picture.
The Bureau of Labor Statistics—the same agency that reports the unemployment rate—periodically does a 10-year jobs forecast. Of course it requires many assumptions. Their last one was based on pre-pandemic data but they recently updated it, considering "moderate" and "strong" pandemic impact scenarios.
Here's a chart that cuts to the chase. The gray bars are the percentage employment change BLS expected from 2019–2029 in some selected job categories. The others are a new projection based on moderate pandemic impact (blue) and strong impact (red).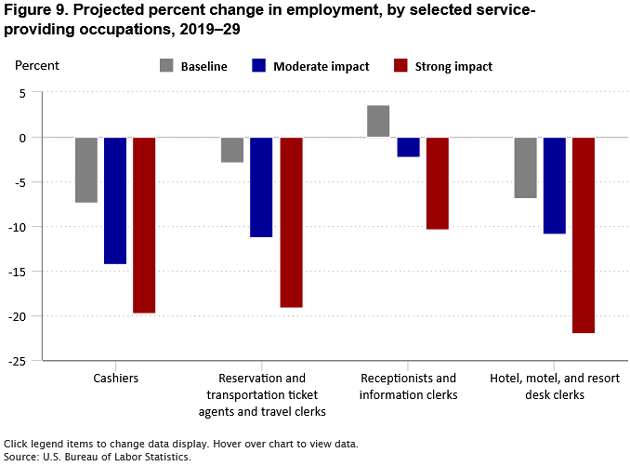 Source: BLS
Disclaimer:The Mauldin Economics website, Yield Shark, Thoughts from the Frontline, Patrick Cox's Tech Digest, Outside the Box, Over My Shoulder, World Money Analyst, Street Freak, Just One ...
more